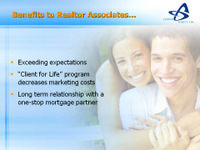 Using Full-Screen Graphics in PowerPoint to Stand Out

Not all presentations must stick to a template. By filling the screen with an image, you can often break the monotony while increasing attentiveness. Alternately, you can integrate a photo into the template/background (left).
Techniques helps to reduce monotony & increase attention
| | |
| --- | --- |
| Before | After |
| | |
| In addition to the use of the overused and unprofessional "screen-beans", this presentation for Financial Guru Laura Wilson was made even more boring by a dreary template. | Our Makeover proves that it's okay to break away from the template! As long as the fonts and overall look remain consistent, audiences often stay more engaged with full screen graphics. In this case, an actual photo has replaced the old flat version, and kicks off the presentation with something new and exciting…and REAL. |
| | |
| --- | --- |
| Before | After |
| | |
| Cable TV Giant Comcast had a regional meeting that used a modern and clean template. They wanted to add some team spirit and impact, so we worked on a presentation makeover to reduce dependence on the template by using full screen images. | This team-oriented photo help inspire the audience and drive the message home. One challenge about full screen images is that it limits the space for text and bullets. For this page, we added some space in Photoshop, offsetting the people to the right and stretched and cloned to the grandstands to give 1/3 more screen real-estate for text. Again, most of these techniques are better handled in Photoshop. |
Trackback from your site.