Transforming a motivational speaker's basic PowerPoint presentation into a dynamic masterpiece…quickly and economically.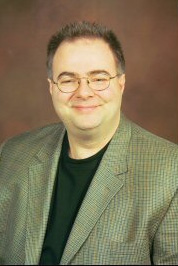 Joe Mayne is a professional speaker and author from Minneapolis, Minnesota. For more than 15 years, he's been teaching college students from hundreds of campuses across North America how to stand out in the job search process.. His seminar "High Five: Life's Basics Elements of Success," is a dynamic and informative program with compelling content. But the graphical design of the presentation was not as bold as Joe himself. So Joe turned to The Presentation Team in December 2009 to transform his PowerPoint presentation from Weak to Wow. The "Enhanced Presentation Package", provided an efficient and economical approach to transform Joe's 40-page basic PowerPoint into a powerful presentation that matched the professionalism of his delivery.
Because Joe frequently speaks to large groups at conventions, conferences and meetings, the visual design needed to be bold, graphical, and easy-to-be-read from the back of the room. Our design strategy focused on creating a look-and-feel that reflected Joe's professionalism and his "Mayne Speaker" company brand and identity, while involving elements of students, careers, a light-hearted approach to the traditional challenge of getting a job. The 6 hour project involved…
Development of a custom professional template (title and body masters), that reflects Joe's professionalism and his company brand, while integrating his existing content.
Re-working the overall look-and-feel of the presentation (bluu and white colors, Tahoma fonts, clean layout) for a more polished look.
Clean and professional imagery/graphics (portfolio, schematics, people, concept art, etc.).
Clutter-reducing techniques and presentation strategies to create a "cleaner" look with greater effectiveness.
Clean and conservative slide transition effects (fades and wipe effect).
Professional fonts/typography to ensure consistent playback on different computer systems.
Consulting and collaboration to help Joe to refine and present new ideas.
| | |
| --- | --- |
| Before: | After: |
| Joe's original title slide was clean but dull. The flat grey background and ordinary Arial font was uninspiring. The presentation's title was placed lower at the screen than Joe's name. A lack of graphics undermined the title's slide's impact on getting the audience excited about the forthcoming presentation. | A textured blue background image for the title and body master helped add a level of movement and modernism to the presentation. The top banner provided a foundation of the presentation's message of people and success. The "High Five" title was moved to the center of the page, and accented with two stock photos conveying two core concepts of Joe's message "time and direction." The Myriad Pro font added a new typographical element of modernism and hipness. |
| Before: | After: |
| Joe's slide about relationships was straightforward but flat. The bullet points ran together and provided a basic textual overview about the top. | By adding a transparent PNG graphic of two couples, the slide more effectively communicated the topic of relationships to the slide more visually appealing…and memorable. |
| Before: | After: |
| A quote about spirituality stood alone on the page. Clean and straightforward, the right justified message was basic and plain. | By adding a stock photo of two outstretched hands, the mesage of Spirituality suddenly took on a new life and greater meaning. Studies show that people remember a slide with graphics nearly 20% more than one without graphics. |
| Before: | After: |
| Another basic and flat slide…effectively communicating a key message, but lacking a graphic to drive-home the point. | By integrating a stock photo of a diverse group of happy business people, the message of keeping employees rewarded, the audience can connect and more effectively relate to the slide, the message, and to the presenter! |
After just three days and three rounds of edits, the presentation was success! Joe speaks frequently at conventions, colleges, and conventions. His style, delivery, eloquence- and now his great-looking PowerPoint slides help to captivate his audiences…while inspiring his audiences to get hired!
* Joe Mayne is a Presentation Team keynote partner.