5 Strategies to Reduce Presentation Time & Costs
Strategies for keeping time and costs down and working more efficiently on PowerPoint presentations. Great for freelancers and outside agencies.
If you're concerned that your presentation will take too much time or energy to create, here are some strategies for keeping time and costs contained and working more efficiently.
#1: Negotiate.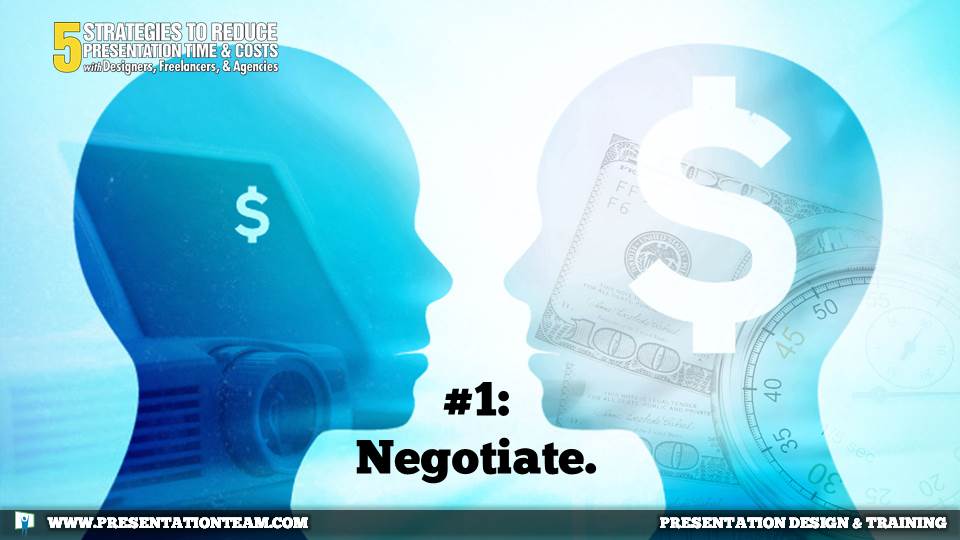 Often a designer or presentation design firm will be open to price negotiation, especially on a new project in order to win your business.
Aim to work toward a middle-ground that's fair to your budget, yet respectful of the designer's time and outside costs.
Some designers will even work on traded services. It's rare that I do this, but several years ago, I designed a narrated video and PowerPoint presentation for a cruise affiliate. My compensation: A free cruise for two to Alaska.
#2: Do some of the work in-house or on your own.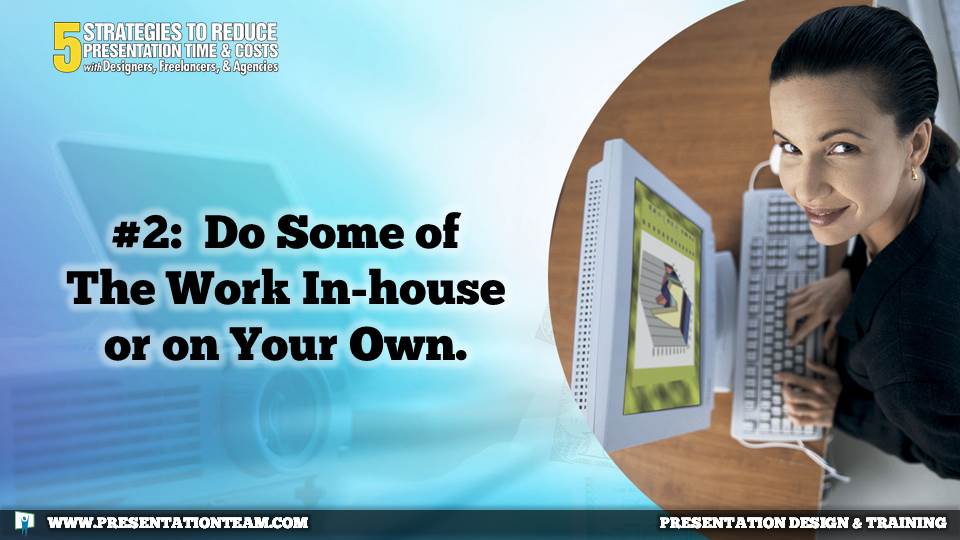 By doing the initial layout or first draft of the presentation, you can save a lot of time and money on revisions or edits with a Presentation Designer.
Or, if you're stuck, call the presentation designer for some ideas and strategies. Some of the more experienced presentation experts can listen your goals, and within a few minutes have several inspiring ideas for you to run with.
After you have the core concepts and outline, then turn to the presentation specialists to assist with the complex graphics, template, and hard-stuff.
Updating or redesigning a basic presentation is much more cost effective than hiring someone to do it all from the start.
#3: Build a library of presentation visuals and stock images.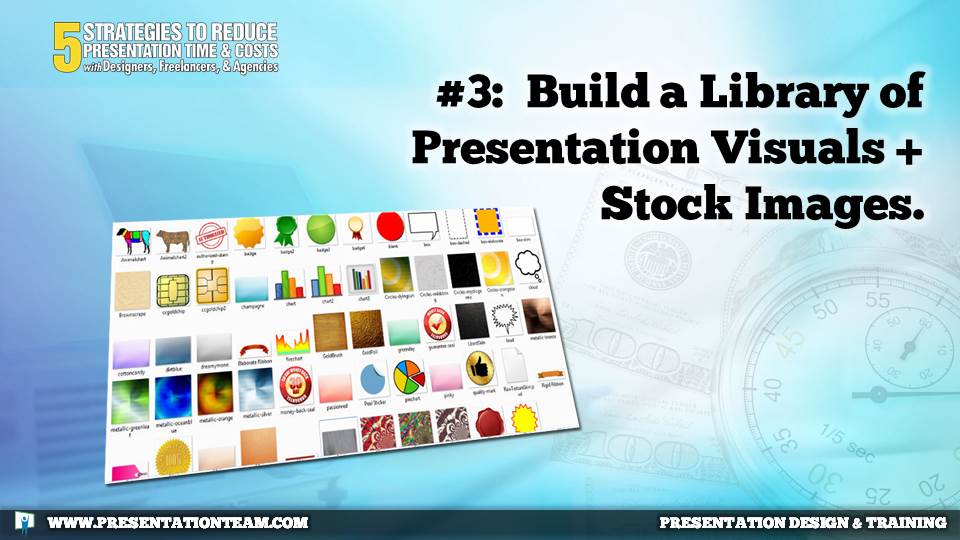 There's no need to design that chart again. Chances are, you've done something like it before.
Where relevant, you can copy and paste and just update the info.
And just because you used that icon or graphic in another presentation, doesn't mean you can't use it again.
Share your work- or work that you've seen and would like to emulate- with your presentation designers.
#4: Be clear in your communications.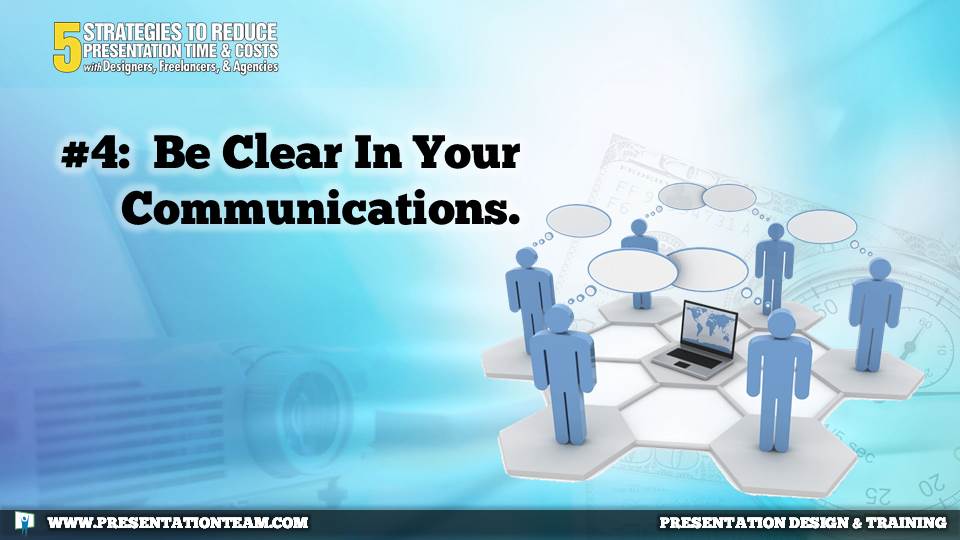 Many presentation projects take extra time because the scope of the project changes.
Do your best to explain- or document – what you need, from the beginning to avoid costly edits and "Scope Creep."
Ask your presentation professional if the information you're sharing is making sense. Have him/her echo your concept and strategy. On big projects, a project workplan created by your presentation designer is a good way to ensure a clearly-understood gameplan.
Be a good manager, but not a control queen.
#5: Collaborate.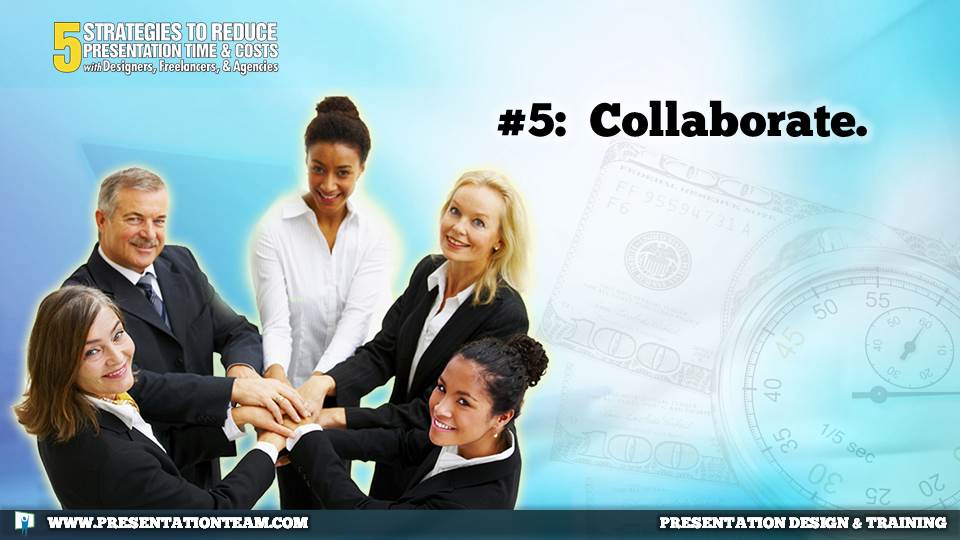 Working together with your presentation specialist can be the most efficient way to produce a presentation.
Your presentation specialist may provide ideas and insight to make your presentation even better and refined.
Also, revisions made on-the-fly (in-person or via WebEx conference call) are much faster than writing and emailing notes.
costs, expenses, management, powerpoint, presentation management, production