PowerPoint's Kiosk Mode and Kiosk Assistant
Learn about Kiosk mode, the PowerPoint feature that lets you create unattended presentations that viewers can self navigate. Also, learn about a cool add-in that helps you get more from Kiosk mode.
Kiosk mode is a subset of Slide Show mode in PowerPoint – it's been available since a very long time, and in past versions some options would behave differently than they do now – some users will no doubt complain that Kiosk mode was more useable before.
So what are the options that are missing now? And is there any way to get them back? Before we explore these options, let's answer a simple question – why do you need Kiosk mode?
We know that many people don't like to hear a question in response to a question – but for the sake of exploring scenarios, let us indeed look at these questions – and the answer to all of them essentially is that you should use Kiosk mode to solve these requirements:
Are you taking part at a trade show, and want to create an interactive presentation with options to click – so that visitors to your booth can click on a button on one slide to go to another? They decide whatever interests them, and they choose to click accordingly.
Do you also want to ensure that no one can press a button on the keyboard to go to Next or Previous slides – in fact, you would like to disable the keyboard or at least hide it somewhere so that users are not aware that a keyboard exists! So all interaction and moving between slides will happen through the mouse cursor.
Do you want to disable all clicks on any area of the slide other than the click hotspots you set using Action Buttons or hyperlinks?
Do you want your interactive presentation to always return to the first slide of the presentation after a period of inactivity so that another user can interactively navigate your slides?
Kiosk mode lets you do all this and more – well, actually it does fulfill everything but the last requirement! It should fulfill that last requirement too – and that was the case until PowerPoint 2000. Then came along PowerPoint 2002 (part of Office XP) and that feature was broken – it's still broken in PowerPoint 2013! Fortunately, Chirag Dalal of OfficeOne created a free add-in for PowerPoint that lets you restore that ability – we will speak about Chirag's add-in later in this tutorial. For now let us explore how you can turn on Kiosk mode in PowerPoint 2007, 2010, and 2013:
Access the Slide Show tab of the Ribbon and click the Set Up Slide Show button.
This opens the Set Up Show dialog box that you can see in Figure 1, below.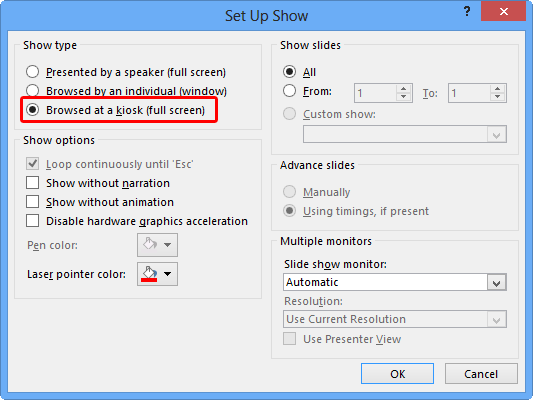 Figure 1: Set Up Show dialog box
3. Select the radio button that says Browsed at a kiosk (full screen), as shown highlighted within red within Figure 1. Since this is a radio button, your other selected option will become deselected.
4. Click the OK button to apply these changes.
Now when you play your slides in Slide Show (keyboard shortcut: F5), then although you may see no difference, rest assured that everything other than the slide's appearance has changed. You will not be able to do any of these tasks:
You cannot move to the next or previous slides.
Right-clicking on the slide will result in no contextual menu showing up.
Hovering your cursor on the bottom left area will not reveal any buttons – yes, you can still see the cursor though!
All these characteristics indicate that you are now in Kiosk mode.
Surface does not do touch in Kiosk mode!
Are you running PowerPoint on a touch device such as Microsoft Surface and then expect that you can tap on an Action Button to navigate to another slide or even another destination in Kiosk mode?
Well, that doesn't work – just thought we will make you aware of this problem!
Leave your presentation unattended on slide 16, and it will remain there – it won't get to slide 1 again after a period of time – as we already mentioned, this feature is broken in recent versions of PowerPoint – you can get it back by installing Chirag Dalal's OfficeOne Kiosk Assistant 2.0 add-in.
Once installed, Kiosk Assistant shows up as an option with the Add-Ins tab of the Ribbon, as shown inFigure 2.

Figure 2: Add-ins tab of the Ribbon
Click on the Configure Kiosk Assistant button and the Kiosk Assistant Settings dialog box opens, as shown in Figure 3.

Figure 3: Kiosk Assistant Settings
Essentially, you get two easy options here:
Reset kiosk slide show after: You can set a time interval here — based on the time interval you choose, your slide show will automatically move to a predetermined slide after that time interval has lapsed.
Reset to slide: Here you can choose the slide number to which the slide show automatically progresses after a period of inactivity.
Click OK when done.
So, do play around with both Kiosk mode and Kiosk Assistant – hopefully this will provide you with newer ways to use PowerPoint. Do share your comments and thoughts!