10 Tips to Preventing PowerPoint Pitfalls
With greater use of PowerPoint and more dazzle and electronic sizzle, the opportunity for electronic adversity is greater than ever.
Here are some pointers for preventing presentation pitfalls…and how to remain the star of the show…when PowerPoint crashes, and when disaster strikes the speaker.
I recently attended a workshop by a well-known motivational speaker. Over 150 people had packed into this hotel conference room to listen to this prominent speaker rally his audience for new money-making ideas and motivational strategies. But when the time came for Mr. Speaker to address the complexities of his topic- more effectively conveyed through effective visual graphics in PowerPoint- he skillfully fired-up his laptop and projector to display his homemade PowerPoint presentation. But his simple click of the mouse was followed by a complex crash of the computer.
Suddenly, Mr. Speaker was no longer the star of the show. His crash-and-burn PowerPoint was upstaging him, as everyone watched with passionate pity, hoping he would recover easily and gracefully. But alas, it was a 15 minute slow-burn, as the audience agonized and empathized with him battling every error message that Windows Vista threw at him. The situation ultimately resolved itself with a cold (and bitter) reboot from Mr. Speaker, and we collectively breathed a sigh of relief. Several minutes later, the resurrected PC played its potent PowerPoint, and the speaker was back on track.
With the omnipresent PowerPoint and increasing expectations for other speakers to present with more dazzle and electronic sizzle, the opportunity for electronic adversity is greater than ever.
If Mr. Speaker had simply taken a few precautions, he could have averted disaster. Or at least not looked so paralyzed.
1. Practice…again and again…using PowerPoint.

Most speakers who create their presentations in PowerPoint simply preview it on-screen to verify the format and content is correct. For maximum impact, speakers should preview and practice their presentations in screen-show mode with the projector attached.
Test the timing, evaluate the effects, verify the videos. If you're presenting on-stage at a conference, make a point to tell the conference planners that you want to present using your own computer. That way, there won't be any incompatibility issues with fonts, missing files, or other unseen variables.
Practicing with your presentation will prepare you for how the presentation will look and sound, and give you a level of familiarity. They say that "practice makes perfect". But amended, it's "PERFECT practice makes perfect."
2. Don't apologize for being a PowerPoint newbie.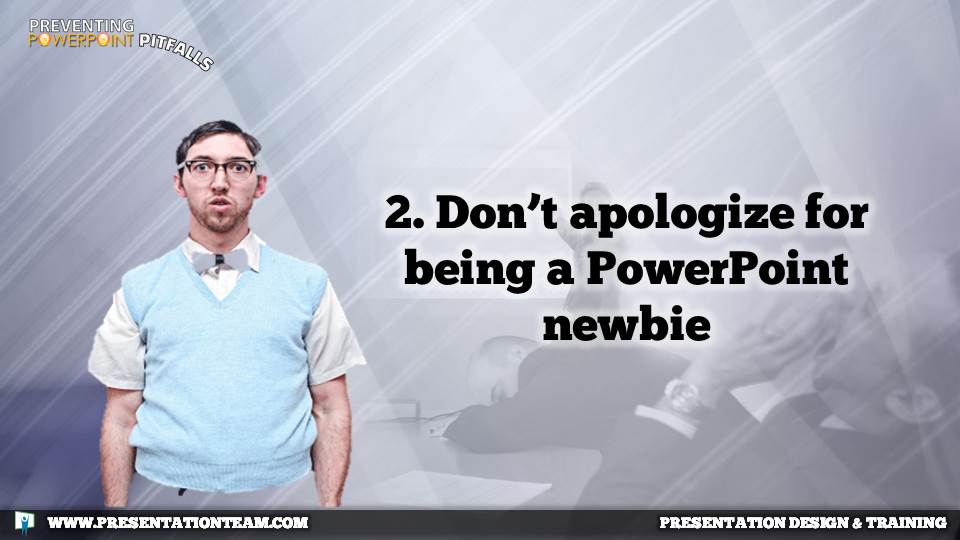 Regardless of how new you might be with PowerPoint, never apologize for your awkwardness with this program. Apologies detract from your prowess as a presenter, and weaken your authority. If you're not comfortable using PowerPoint, hire an outside source or expert to assist you.
Most hotels are ready with Audio Visual experts, and college students can be easily and economically hired to help. Regardless, PowerPoint is here to stay, and to gain the respect of the new generation- and their high expectations of dynamic visuals- it's increasingly essential to have some competence in using electronic presentation tools.
3. Prepare a backup computer and projector.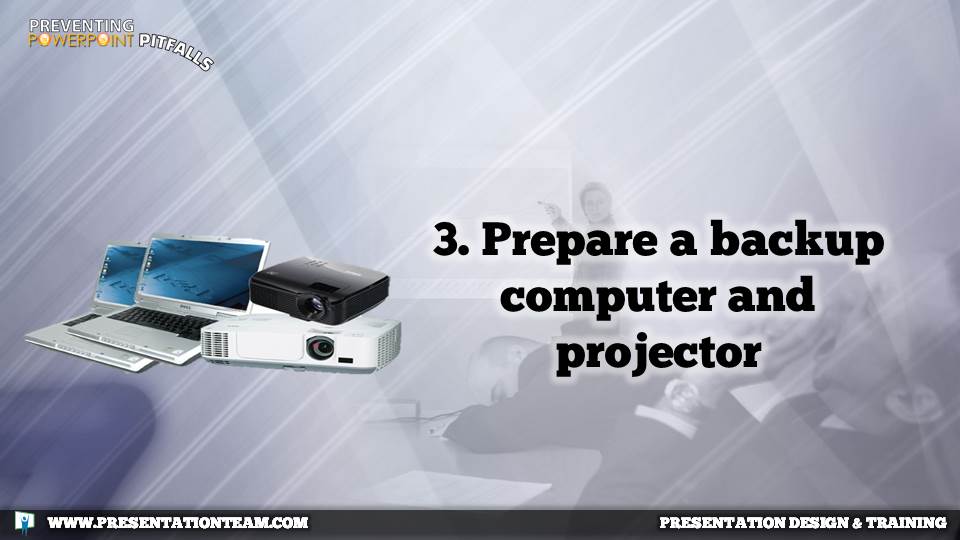 Speakers who are betting all-or-nothing on a presentation, should have all bases covered. By having another computer and projector ready to go in the event of a computer catastrophe.
What if the projector bulb burns out?
What if the hard-drive crashes?
Think like a world-class speaker; do you think Anthony Robbins only has one laptop running his show? Plan for the unplanned, and you'll be prepared when the unprepared strikes.
4. Toss to another speaker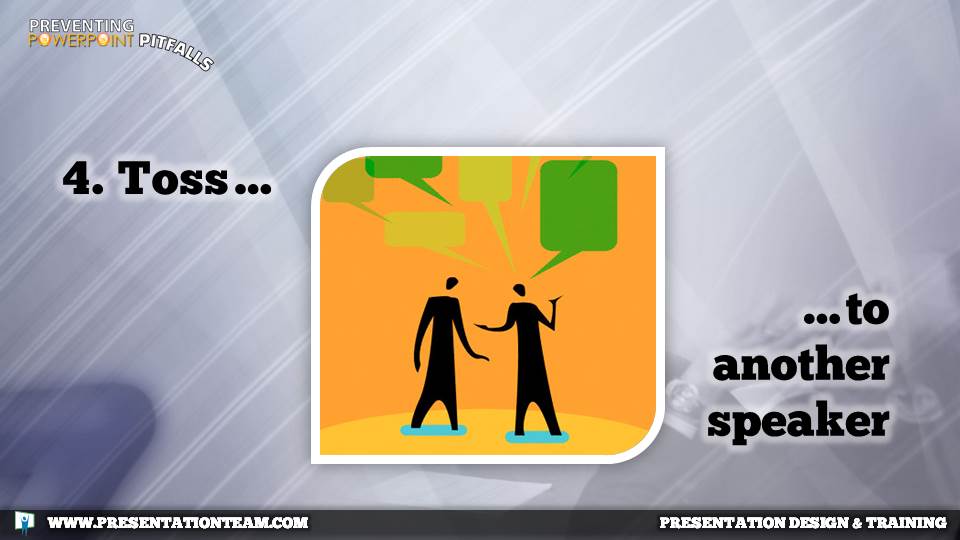 If something does go south when you're presenting in PowerPoint, it could be helpful to "toss your talk" to another speaker. All too often, speakers will work to tackle the trouble themselves, leaving a silently awkward audience watching the speaker.
At the first sign of technical trouble, it could be helpful to have a partner in the presentation- a backup speaker or presentation partner – who can pickup and talk about a related topic – allowing you to focus on the tech issue at hand.
5. Share a video from a DVD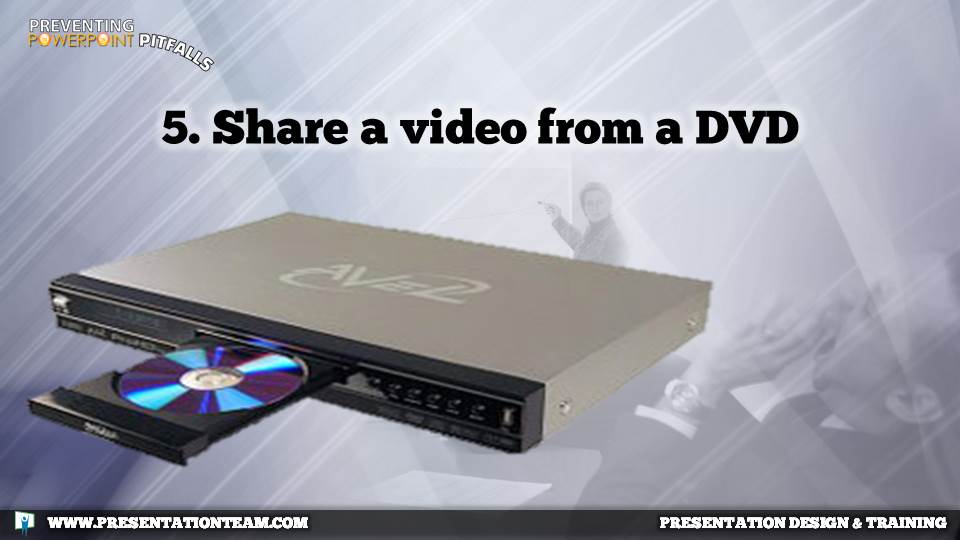 If your computer crashes, and you have nobody to turn to, have a short video burned on a DVD that you can play from a separate DVD player. By playing the DVD on a separate unit, you can easily switch away from the technically troubled computer, allow it to reboot, and play the video from a solid DVD player.
6. Display the presentation directly from the projector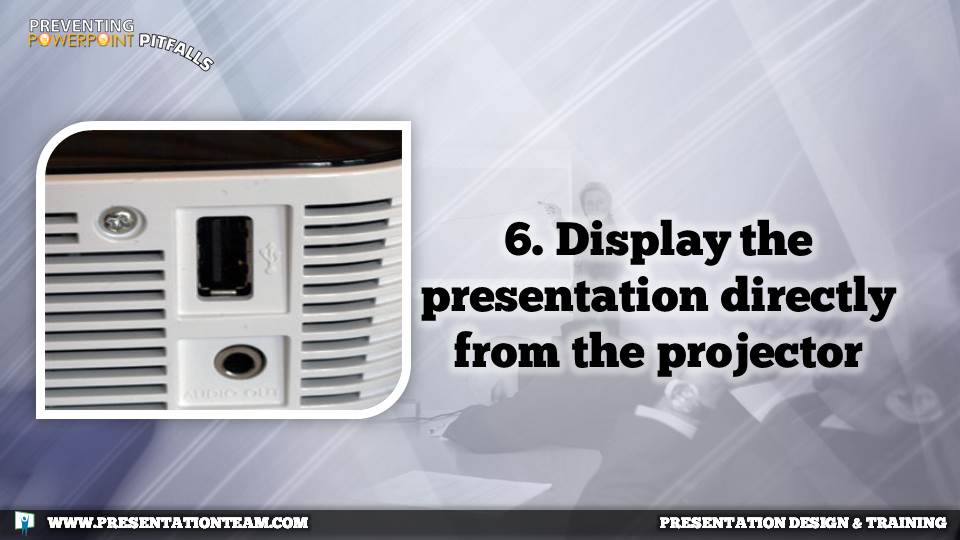 Most modern LCD projectors have a SD card reader, which means you can play the presentation slides- as an image/graphics slideshow- directly from the projector; you don't even need a computer attached. From PowerPoint, simply save the presentation as numbered JPG images (and numbered .avi videos), and then copy the images and videos to the SD-Card or USB Memory Stick.
Plug the SD-card or USB Stick to the projector, and a few simple menu settings will allow you to change the source of the projector from external computer to internal card or stick. Most projector remote controls have slide control function to move up and down between slides. This is a great primary – or backup presentation technique. Check it out!
7. Have a technical guru ready to help you…and don't be afraid to ask.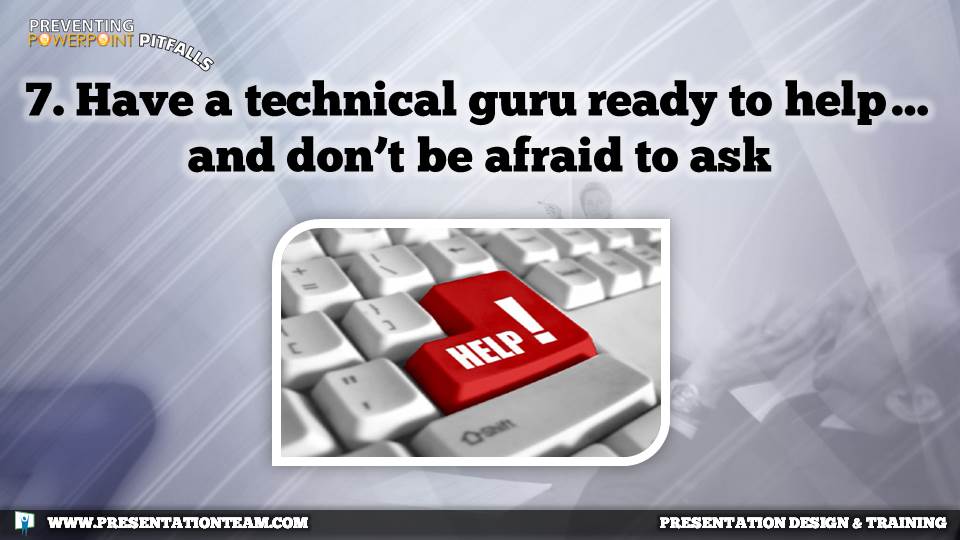 If the unfortunate computer crash happens with the audience watching, and you can't tackle it yourself, it's helpful to have an expert on hand to help with the tech issues. There's no harm in asking for help from the audience. Some may even have laptop computers on hand and could step in quickly to offer assistance, or soften the impact of your center-stage technical tragedies. As a secondary plan, always carry the presentation and its related graphics and fonts on a backup USB memory stick, to be able to quickly transfer it to another computer.
8. Be able to carry on without visuals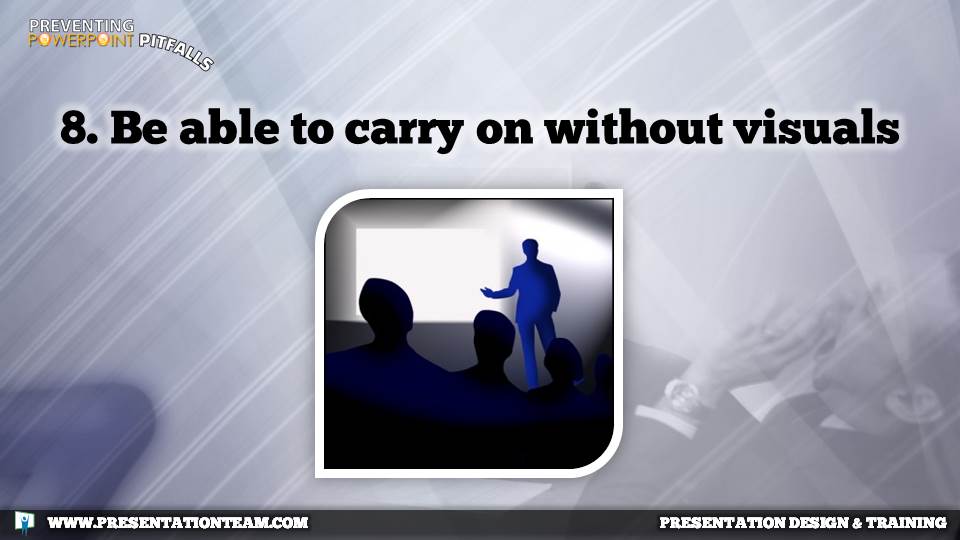 If the power goes out, or the computer crash is unrecoverable, and there's nothing you can do, remember, "the show must go on."
Be prepared with large printed charts and graphics on an easel. Giant posters.
Get your audience into the act by playing out the scene. Or provide the audience with handouts that explain your concepts. If you know the visuals are mortally wounded, and there's no way to recover, carry on without them and don't make a big deal. You are the star of the show- not the visuals- and if they never appear, the audience will likely never know they were meant to be in the production.
9. Cover your projector while troubleshooting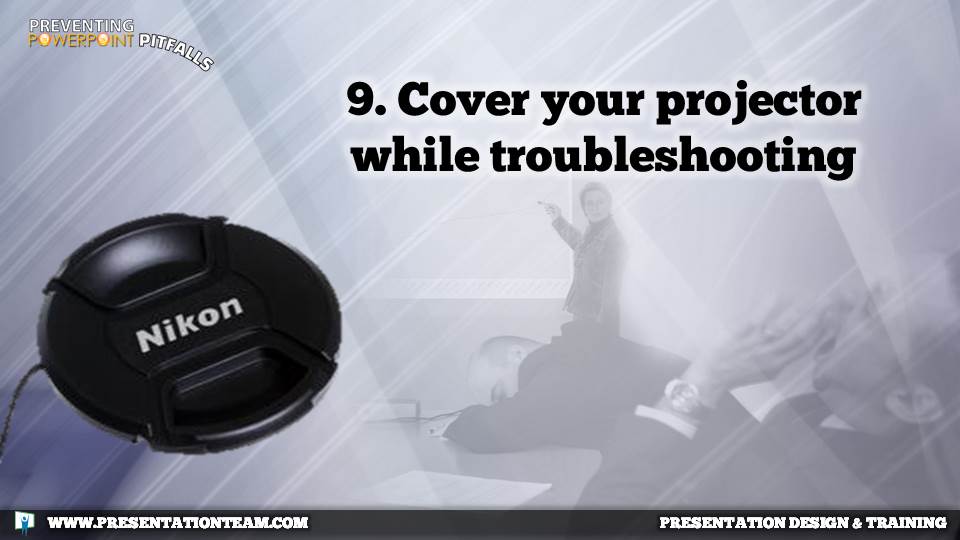 We've all been a victim of computer crashes. IT happens to the best of us. But if it happens to you while speaking, work to downplay the impact and significance of it. Cover the projector lens as you/your team works to resolve the situation.
The recent presentation pitfall by Mr. Speaker was painfully amplified his projector, magnifying the grave situation onto a 10' x 8' screen. Although the speaker continued to talk, the audience was painfully aware of the continuous crashing. By simply covering the lens of the projector, the audience would have been kept "in the dark" to the drama and trauma, and the speaker's rescue team could have given him a silent "thumb's up," when the production was ready to resume.
10. Never Let them See You Sweat.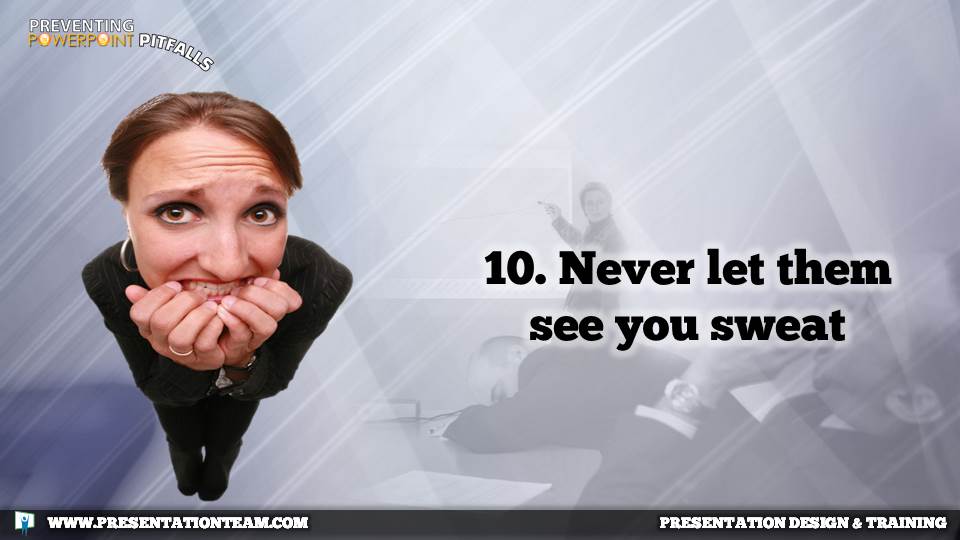 When troubles hit; be strong and remain resilient. As the old television commercial for Dry Idea deodorant made famous, "Never let them see you sweat." Be cool, and carry on. As the star of the show, you are in charge. PowerPoint crash? No worries! Power outage? Flow and go with the wind. Know your material well enough that you can continue and carry on.
PowerPoint is a visual support tool; not the centerpiece of your presentation. In the end, you are the star. But in the event of a computer crash, these simple strategies can help you to be more prepared and professional, and come across looking like a true presentation pro.
---
Kevin Lerner is a presentation consultant and expert on presentation design and delivery. His firm, The Presentation Team, has helped hundreds of companies and individuals to create world-class presentations.
Disasters, powerpoint, Presentation Difficulties, Speakers, Toastmasters