The Psychology of Color in PowerPoint Presentations
Discover how the colors you choose for your PowerPoint presentations can guide the emotional response of your audience.
What are the best colors for a PowerPoint presentation? It all depends on who your audience is and what you want them to feel!
When used correctly, color can help audience members sort out the various elements of a slide. But its power goes beyond mere clarification. To some extent the colors you choose for your visuals guide the emotional response of your audience.
---
Blue: The most popular background color for presentation slides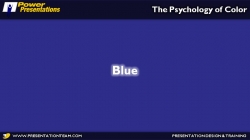 Blue is one of the most common background colors. It's calming and conservative, which is why it's very popular with business presenters, as well as for for trainers. Studies have shown that blue has the power to slow our breathing and pulse rates. Dark blue backgrounds with light text are great for conservative corporate no-nonsense presentations. Lighter blue- more common in recent times- work well in relaxed environments with the lights on, and help promote interaction.
Examples of BLUE in Presentations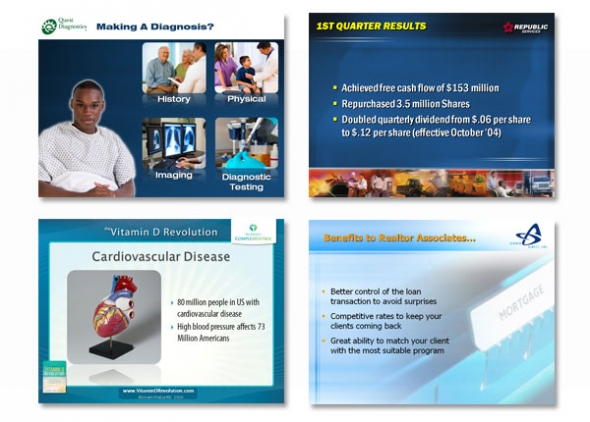 Quest Diagnostics: A serious company with a seriously navy blue background. The subtle angled lines promote a feeling a movement and technology. Blue complements the Green of Quest's logo, and the white title bar provides a clean but stark contrast to the body.

This blue template for waste management firm Republic Services provides a conservative backdrop for the financials and white bullet points. The yellow titles stand out, as does the orange, red and blue themed imagery at the bottom, not to mention the company's logo.

This slide for Dr. Soram Khalsa' Complementrix Vitamin system features a template with a dark blue with angled lines. And the inner portion of the template featured a light blue-hue burst of a sun-ray to convey bright life and energy.

This slide for Lender Direct featured an image of a file folder, edited in Photoshop, with a 80% transparency set against a light blue background. The light blue graphic helped to convey a sense of openeness, and professionalism, while maintaining the company's blue brand.

---
Green: Stimulates interaction and puts people at ease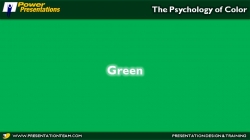 Green stimulates interaction. It's a friendly color that's great for warmth and emotion. Green is commonly used in PowerPoint presentations for trainers, educators, and others whose presentations are intended to generate discussion. It's also a great color for environmental and earth-oriented discussions.
Examples of Green in Presentations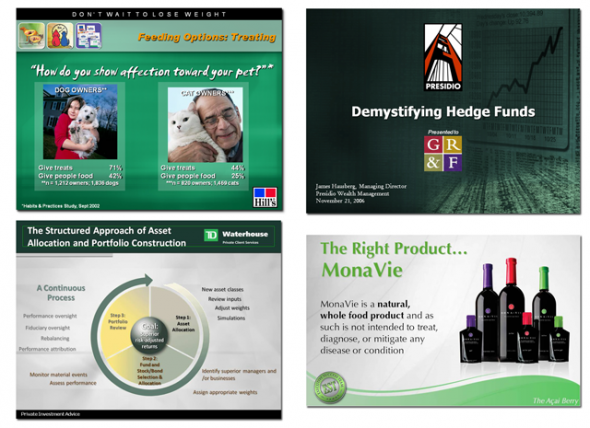 This slide for Hills Pet Nutrition features a modern green background with textured lines promoting a warm, but contemporary feeling. Great for their topic on pet affection.

Money is green and so is this presentation for Presidio Finance. The white text contrasts nicely with the forest green finance images, helping to project a no-nonsense image of success and accomplishment.

In this slide for TD Waterhouse, we created top title bar in dark green, integrating smoothly with their lime green logo. The green-hued process chart on the slide image stands out comfortably against the textured grey background.

The flowing green arcs at the bottom and green title text helps substantiate this slides message of health and vitality. Executive Success Team's green logo and brand also promotes a relaxed and comfortable feeling, just like Mona Vie.

---
Red: Handle with Care in Presentations!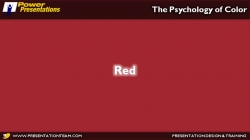 Red is one of the most influential colors in your software palette — but it also carries negative cultural attachments, so use it carefully. Red is also a great color for conveying passion. Or talking about the competition. Do not use Red in financial information or tables and charts.
Examples of RED in Presentations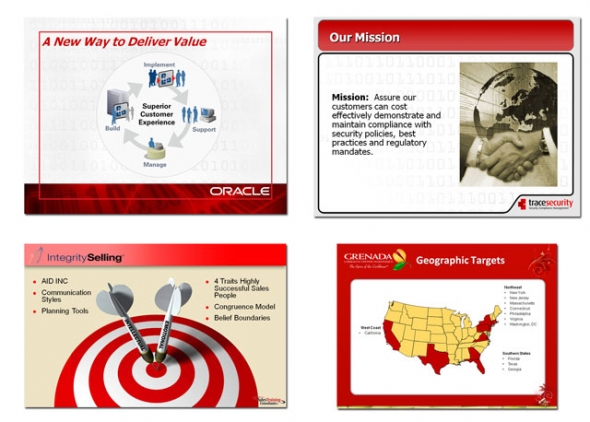 The rich red of Oracle is maintained in this template, featuring red title text in an inset red rectangle and a red bottom bar of binary numbers for a look of blazing edge technology

Trace Security uses a similar red title bar element, tying in to their black and red logo and brand.

Red and black are also colors for Sales Training Consultants, and in this slide, we used a flat beige background, with a title bar in bright red together with red bullets and a red target graphic.

The body pages of the Grenada presentation feature Red, but in an inset border. Text is inversed in white, as is the main body area. The key states in this map are highlighted in red.

---
Purple: Mystical and Emotional color in presentations and design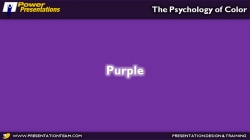 Purple is often associated with royalty and wealth. Purple also represents wisdom and spirituality. Purple does not often occur in nature, it can sometimes appear exotic or artificial. Nearly all the clients who come to me with presentations featuring purple or lavender are women. It's a feminine color and it's a good color for emotional or spiritual presentations.
Examples of Purple in Presentations

Crosley & Company's branding is maintained with a dominant dark purple background, and orange titles.

A soft lavender background option gives these two medical doctors a chance to add some warmth for their mostly women audiences.
---
Yellow, Orange, & Gold: Attention-getting colors of affluence and prestige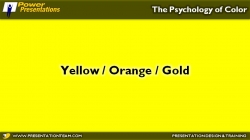 Yellow can create feelings of frustration and anger. While it is considered a cheerful color, people are more likely to lose their tempers in yellow rooms and babies tend to cry more in yellow rooms.
Since yellow is the most visible color, it is also the most attention-getting color. Yellow can be used in small amount to draw notice, such as key words, or highlights but not in backgrounds. Rather than using flat yellow as a background color, consider a more "golden" or orange color. Simply adding texture to a yellow background or superimposing a photo (in Photoshop) with low transparency, can add more richness to the yellow background image.
Examples of Yellow / Gold in Presentations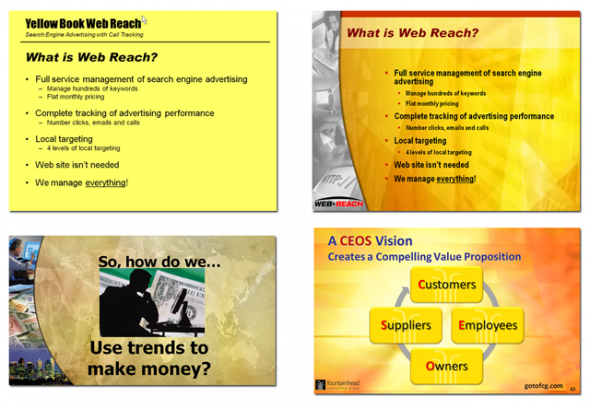 This flat yellow slide is for Web-Reach, an internet consulting firm in Miami. Even though their message was to compete with the Yellow Pages phone book, their yellow background was flat and uninspired.

With a simple fix in Photoshop, yellow became Gold, and the same slide became more robust. We added a red bar to the top, and a grey arc to the left. Same information, just a textured golden hue helped deliver elegance and style.

A golden textured earth background helped this slide convey the message of international elegance. The green money background blends with the gold, and the black text brings a nonsense message to the page.

A golden textured background for Fountainhead Consulting with elements of yellow, blue, red, and grey.

---
Black: A strong and definite color that's often overlooked!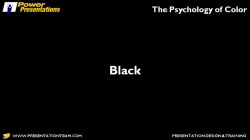 Don't forget your basic black. Often overlooked, black is a background color with useful psychological undertones. Its neutrality makes it a good backdrop for financial information. Black connotes finality and also works well as a transitional color which is why the fade to black transition is powerful, as it gives the impression of starting fresh.
Examples of Black in Presentations

It's a matter of black and white for this construction company. It's intro slides were pure white text on a black background, emphasizing the company's core beliefs. After the 3 b&w slides, the room lit-up with a series of dynamic colorful slides as the speakers enlightened the audience.

Over 10 years old, this slide from Ryder transportation remains one of the strongest visuals. Set against a flat black background, the company's grey logomark conveys a true sense of stability and no-nonsense action. The monotone building blocks tell a strong story.

White: Pure, Fresh and Clean. But a little boring.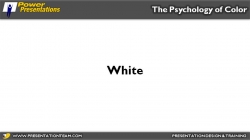 White is also a calm and neutral color for presentations. It's terrific for conveying a fresh start such as a fade to white. It represents purity or innocence. Good for positive information where you want the focus purely on the message, and not competing with a brand image. It's clean/open and inviting and can create a sense of space or add highlights. But it can also be perceived as cheap, flat (it's the default color for PowerPoint slides) and harsh on the eyes. Consider grey as a better background color.
Examples of White in Presentations

To help to maintain a clean and open look this consumer collaborative called on us to integrate their brand colors set against a plain white background. The blue and orange bars provided a conservative frame, while the arcs provided a contemporary look of flow and motion.

This slide for a large architecture and construction firm featured a flat white background offset by a colorful series of modern buildings and logos.

---
Grey and Silver: A conservative color; Good when Black or White won't work.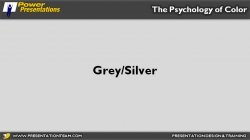 According to psychologists, grey is often thought of as a negative color. It can be the color of evasion and non-commitment since it is neither black nor white. Some say that Grey is the color of independence and self-reliance. A few years ago, silver was the most popular color for cars. And in the presentation world, this calm color is making a comeback. Grey (or "Silver") is a softer background than the harsh default color of white, and works well on almost all presentations. A dark grey background with light text…or light grey background with dark text…you can't go wrong!
Examples of Grey in Presentations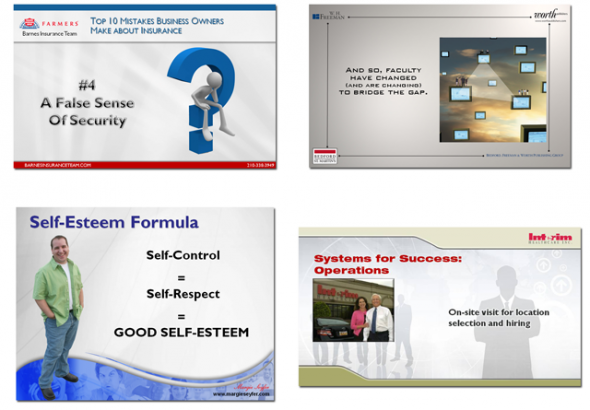 Farmers Insurance's silver background integrates subtle ray of light elements to help add depth and texture to this slide. The red, blue, and black stock images blend comfortably with the rest of the page. And the white border around the letters add a level of modernism and clarity.

The stainless steel background of this slide helps promote a modern contemporary look, helping to link the 4 brands together.

A clean flowing blue arc with a non-obtrusive silver background help make this slide for Margie Seyfer appear fun but conservative

Interim Healthcare's brand is maintained, but a muted image in silver help add depth and dimension to the slide's message,

while supporting its key points.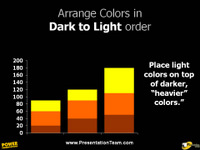 ---
We perceive dark colors as being "heavier" than light ones, so graphic elements that are arranged from darkest to lightest are the easiest for the eyes to scan. On charts, it's best to arrange colors from dark to light.
Remember that most eyes aren't perfect. Because color perception deficiencies are common, certain color combinations — including red/green, brown/green, blue/black and blue/purple — should be avoided.
color, powerpoint, powerpoint tips, presentation design, psychology of color, style