10 Tips to Tailoring Your Talk when Time is Tight
Tips for public speakers and presenters when time is short
Talking is an art. Talking on time is a science. Polished delivery of a prepared speech of 5, 15, or 30 minutes takes verbal skill, rehearsal, and focus to stay within time. But for someone whose time allotment has been slashed, trimming their prepared talk to fit the new time takes a blend of quick-thinking editing and amplified audience-engagement. The program is running overtime and you've been told you only have 5 minutes to deliver your beautiful 20 minute speech! Here are some techniques to tailor your talk when time is tight.
#1. Keep it Focused On The Audience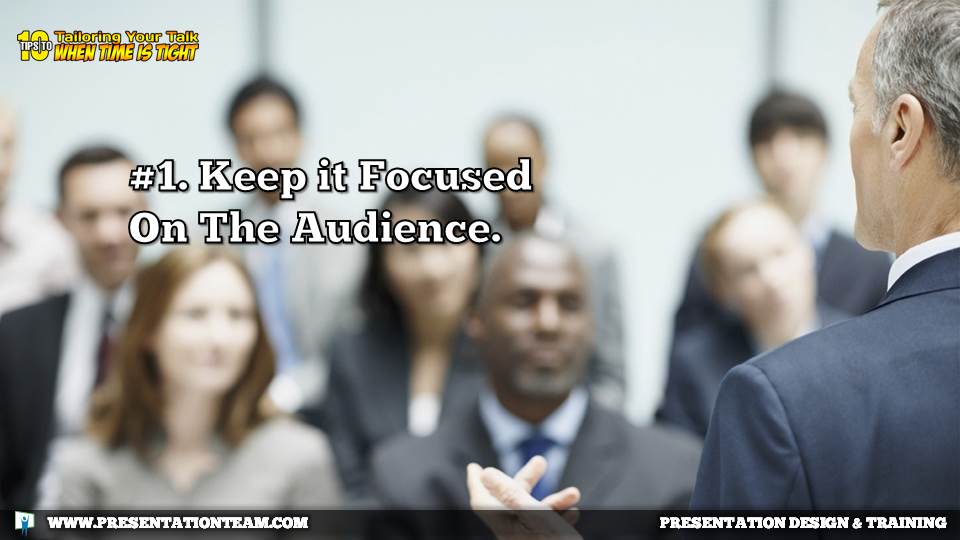 When time is tight, the focus should be on the audience. Acknowledge their time constraint and assure them that you'll keep your program in the new abbreviated time. Keep your quick talk squarely focused on their interest and needs. More than ever, it's not about you. Trim-out any personal stories, humor, personality, or examples, and stick to the bottom line. You are just a messenger. What value can you provide and what are you here to share that they need to know? Visually "read the room" to see how much more information they can absorb. Or simply maintain a brief dialogue with someone of leadership in the audience to help keep your message targeted and on-time. "Is this important to you?" "Do we have time for me to share this?" Their answers will help guide the flow, and show that you care about their needs.
#2: Have an Executive Summary with a Focused Key Message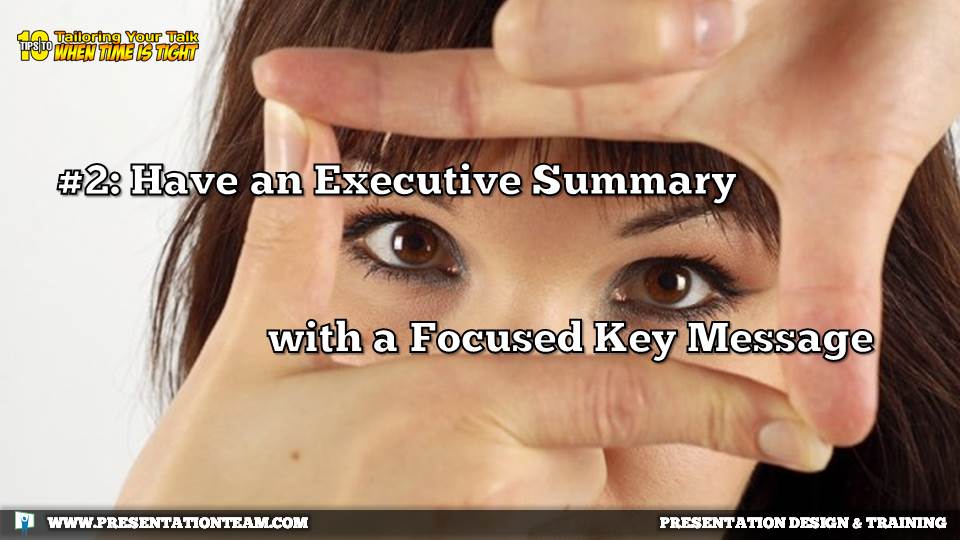 Executive summaries are valuable because they consolidate complex information into a few paragraphs. They're easy to read and digest. For your talk, focus on crafting an executive summary for your presentation that highlights your #1 overall key message. Aim to find a core statement or critical message that hits home. This core statement could become the foundation- even the introduction- to your talk. Whether it's a sales or marketing presentation, an inspirational or informational talk, or a financial/analyst presentation, a ready-to-go pre-made executive summary can help you talk with focus without getting flustered.
#3. Print Handouts & Share Where to get More Info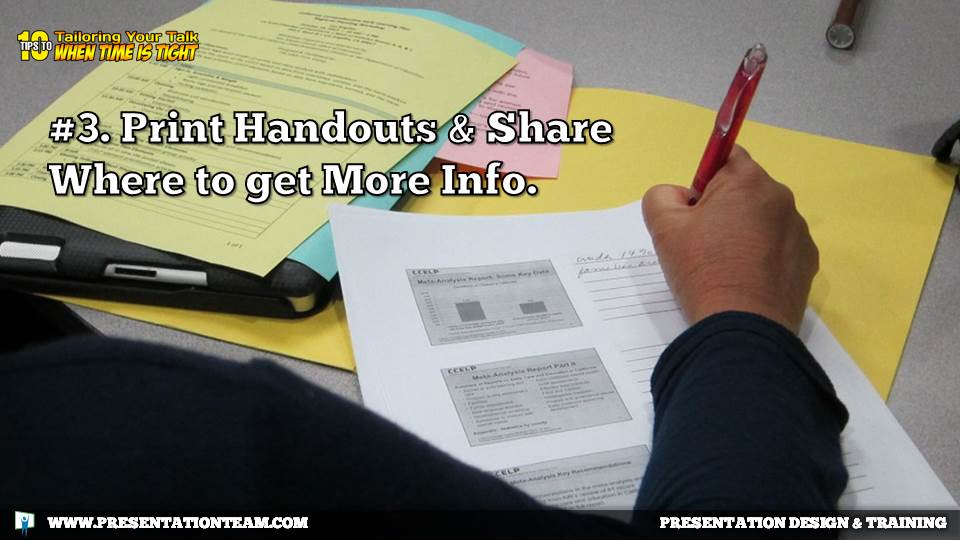 When talking time is tight, support it with handouts. Either as a digital file link, email, or printout, slide handouts can have notes, links, and supporting documentation to help fortify your high-level statements. By offering hyperlinks in your notes (to both internal and external resources), you can showcase your sources, and offer the audience a chance to dive-in deeper to learn about your topic and message. You can also post your full presentation online at SlideShare.net or convert it into a narrated movie to be uploaded on YouTube.
#4. Reschedule! Offer a Full Program at a Working-Lunch or After-Hours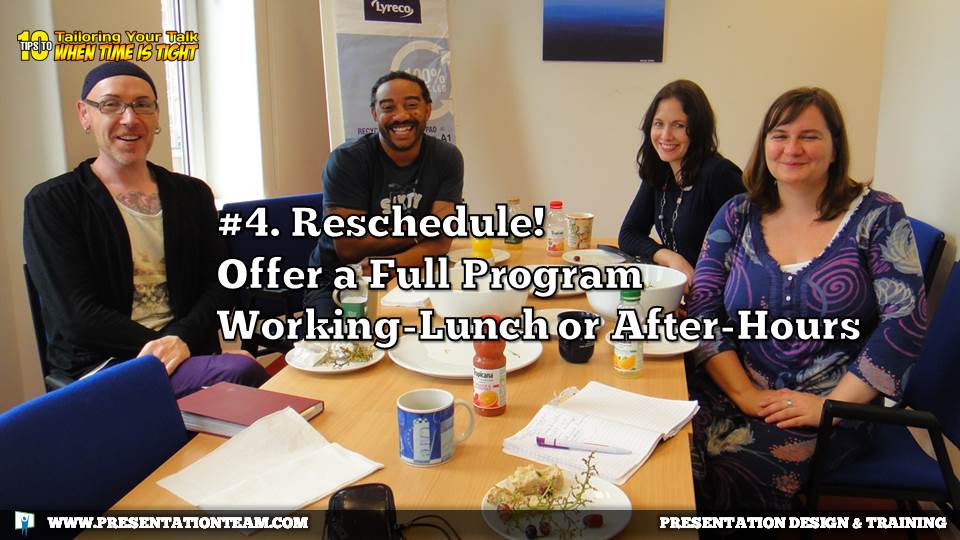 No time now? Let's do it later. Depending on the genre of your presentation and audience interest, you maybe able to reschedule your full talk for another time/day or after-hours. Short on time for your critical finance presentation to the COO? Get on his schedule after hours or during lunch next week. How about that training presentation of yours that nobody seems to have time for during work hours? Tell the gang to join you after for a happy hour in the local brewery's back meeting room, and get them trained on the big-screen at the bar. Bottom's Up!
#5. Learn to Recover From Distractions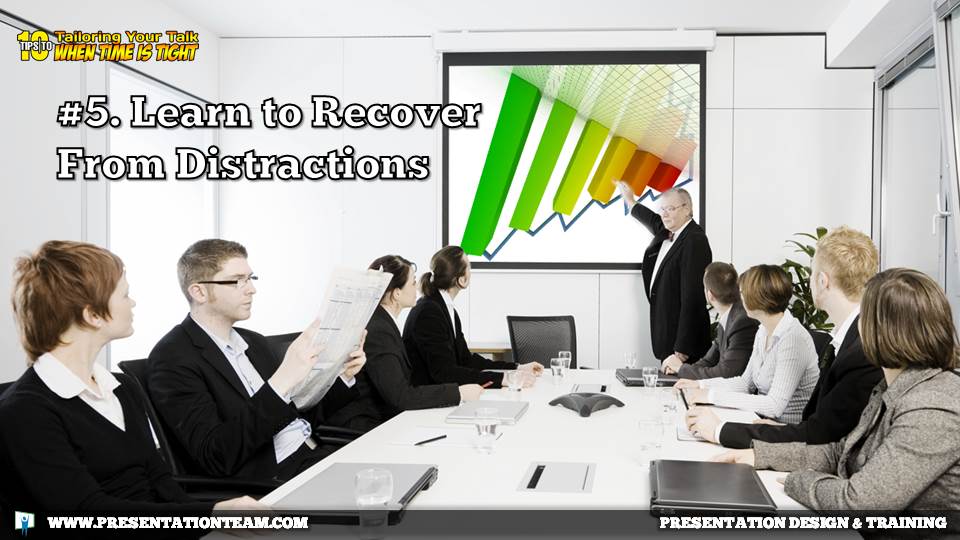 One of the most frustrating and challenging situations for a speaker is to be distracted from the topic. Bouncing back after being thrown-off topic takes practice and craft. By practicing to recover from distractions, you'll gain agility in thinking on your feet and tailoring your talk to various lengths. If someone rudely looks at the clock and then commands you to, "just jump to the end!" don't be flustered that your big talk must now be small. As a speaker, you want to appear calm, poised and in-command. You may be upset by the loss of information and creative time/effort- but it's essential that you roll with the punches. Practice your material in various settings with different audiences, so that you can adapt and react to whatever is thrown your way…or whatever is cut from your timetable.
#6. Just the Facts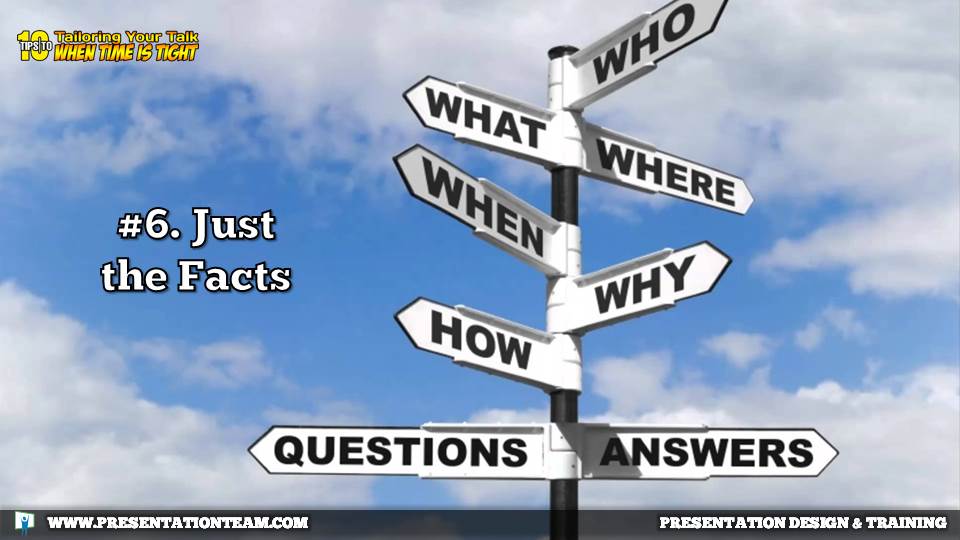 Stories, photos/videos, statistics, and examples can be the spice of a speech, adding depth and dimension. But when time is tight, we must eliminate this speech spicing. Talk to the meat of the matter, presenting just the facts to your audience. Like a journalist, focus on Who, What, When, Why, Where, and How. Maintain your persona, but stay brief, and make sure your points support the key message, and fit in with the general tone and style of your meeting or venue.
#7. Memorize your Intro and Closing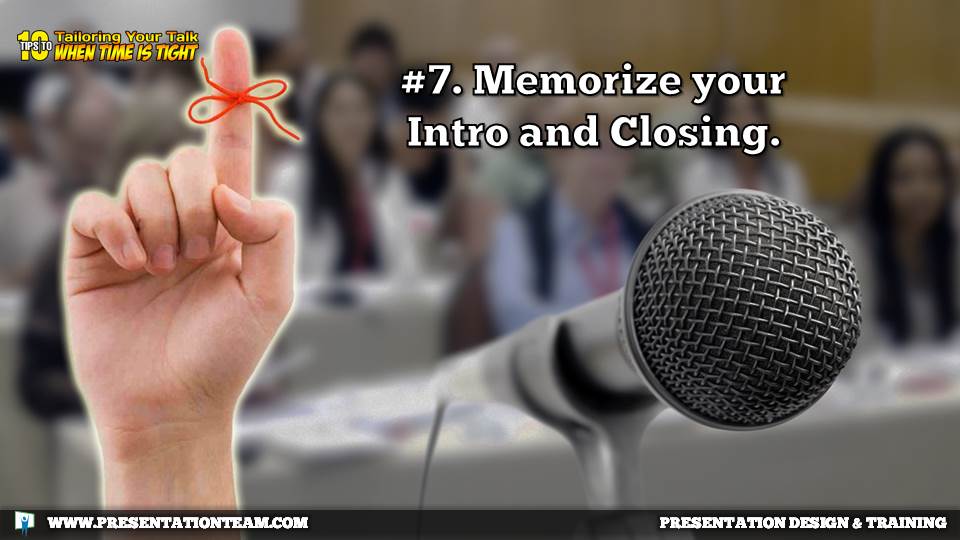 Within the first 30 seconds of a typical speech, most audiences have already created a holistic judgment of the speaker. Appearance…style…message: judged and rated fast and furiously by the audience. Despite how much may have been sacked from your speech, having a compelling and memorized introduction and closing can create a more meaningful presentation to your audience. With or without visuals (PowerPoint/Keynote), you should be comfortable commanding the platform and talking from the heart and mind about your topic. Even if it's just a dull topic, a short sharp memorized intro that touches on your key points and jumps to a brief but bland conclusion, your audience will be far more captivated than with a scattered meandering through your message.
#8. Structure Your Speech as an Expandable Outline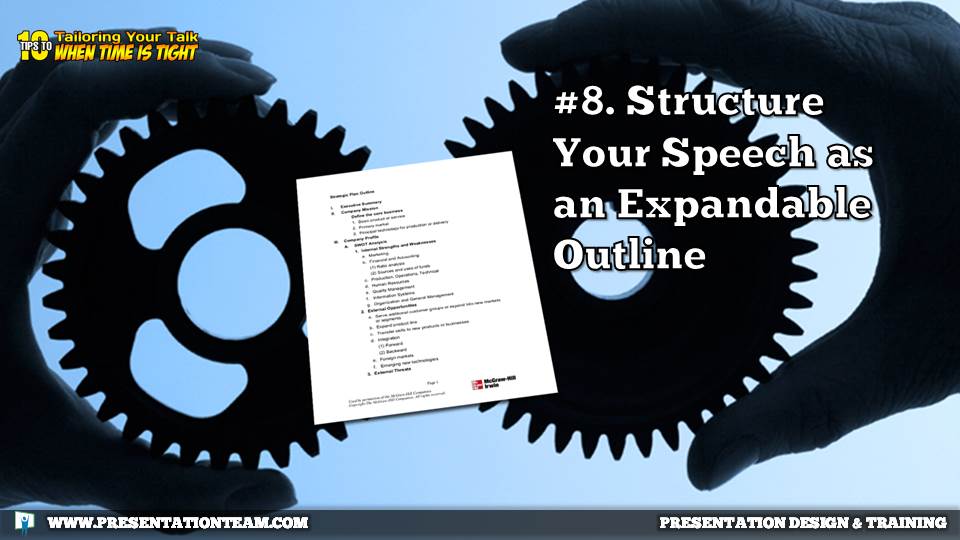 Structuring your speech in an outline format is a great way to organize your key messages while adding flexibility to the depth of your supporting ideas and messages. With your key topics in the top level, you can integrate your supporting points, samples, and related topics in lower-level points (level 1a, 1b, 1bi, 1bii, etc.). If time is tight, you can simply speak from the top topics from your outline. As you talk, pay careful attention to the time; you can expand upon- or skip-past- each of the key points as needed. You can also share the outline with your audience to show you've done your homework, and there's more if they want it.
#9. Hyperlink in PowerPoint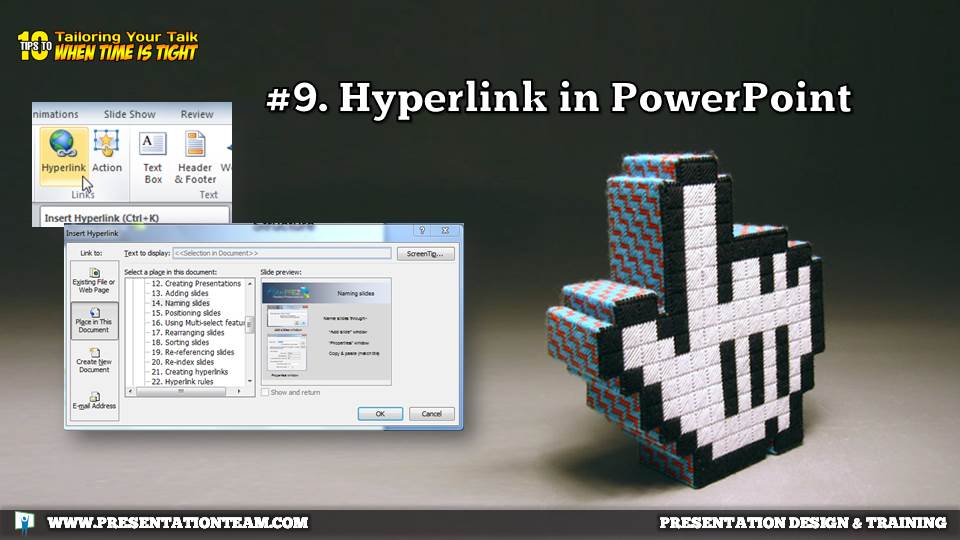 Presenters using PowerPoint or Keynote can make their presentations interactive, making it easy to jump across high-level sections…or drill down deeply into detail thanks to hyperlinks. Adding a main menu featuring your speech's key sections- in graphics and/or text- is a great place to begin. Each topic can have an embedded hyperlink that, on mouse-click, will jump to that specific topic's slide. The topic slides can have additional supporting detail slides, also accessed by hyperlinks. And to return to the main menu- build-in an invisible hyperlink on the master slide (on the logo or bottom corner). Presentations with hyperlinks can add an image of professionalism, while helping you respond to crushing chronological circumstances.
#10. Don't rush. Talk calmly but naturally. End with purpose.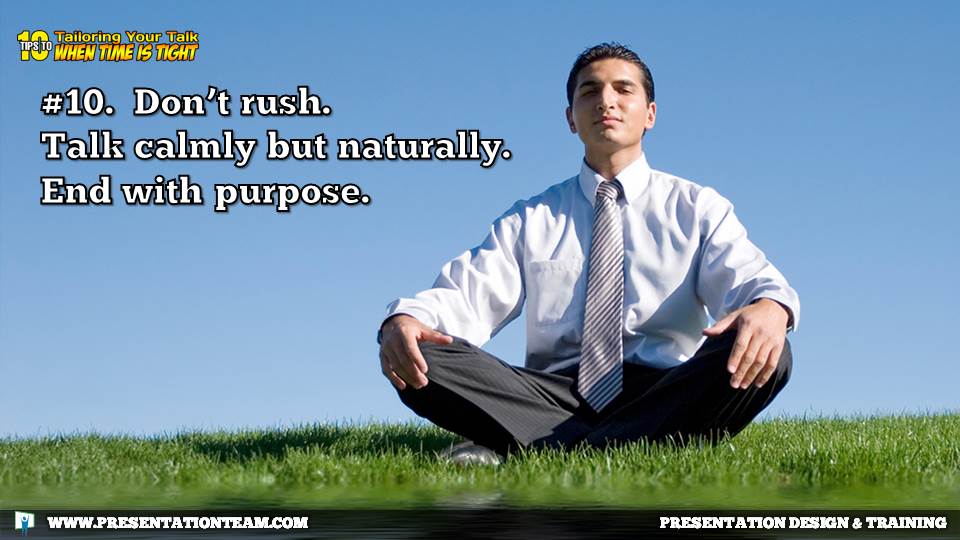 If told that they need to "wrap it up," most people will talk faster, get more nervous, and race to cram it all in. Consciously or not, the audience will notice…negatively. Don't rush. If you know your time is tight, talk calmly but naturally. Take a deep breath, and make a conscious note to react with calmness and confidence. Assuming you know the material, calm extemporaneously delivery will give your mind more flexibility to determine what parts to edit-out and keep-in. End on a poignant and purposeful note; sometimes less is more.
The artful balance of information, time, and talk demands focus and flexibility. By integrating these strategies into your speaking practice, you'll be better prepared to tailor your talk the next time that time is tight.