PowerPoint Design: PowerPoint Visuals that Make a Point
The story of how a TD Waterhouse employee helped design a bold PowerPoint presentation to support a keynote speech for a local business group.

To help communicate the risks and rewards of investing in today's uncertain financial market, Trevor Franklin of TD Waterhouse turned to The Presentation Team to create a focused but impactful presentation to support his 20-minute "Building Trust in Financial Services" keynote speech for a local business group.
Our mission: enhance his short PowerPoint with a limited budget and short time-frame. Our "Speedy Presentation Package", was the perfect solution: a quick and easy approach to transform a basic PowerPoint into a get-noticed masterpiece.
Trevor was speaking to over 30 executives and potential clients at a local business seminar. The visual design needed to be bold, graphical, and easy-to-be-read from the back of the convention room. Our design strategy focused on creating a look-and-feel that reflected Trevor's professionalism and TD's brand and identity, while involving graphical elements of finance, and customer service. The 2 hour project involved…
Integration of a stock template (title and body masters), that reflects Trevor's professionalism and TD Waterhouse's company brand, while integrating his existing content.
Re-working the overall look-and-feel of the presentation (colors, fonts, layout) for a more polished look.
Clean and professional imagery/graphics
Clutter-reducing techniques and presentation strategies to create a "cleaner" look with greater effectiveness.
Clean and conservative slide transition effects (fades and wipe effect).
Professional fonts/typography to ensure consistent playback on different computer systems.
Before:
The original slide featured a flat white paper template. The graphical elements were weak, complicated, and busy. The title was integrated into the body of the page
After:
A clean and modern template helped add dimension and flow to the presentation. New bolder and more prominent graphics for the Japanese symbols for Crisis were implemented using Photoshop to add shadow and outlines. The title was moved to the upper left of the page.

Before:
Prior to our makeover, Trevor spent over 15 minutes on this single text-heavy slide, which focused on Five Explicit Needs of Risk and Reward.
After:
The Five Explicit Needs of Risk and Reward were presented in an overview list, and then each topic was presented in depth, one-by-one (below).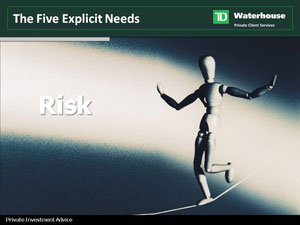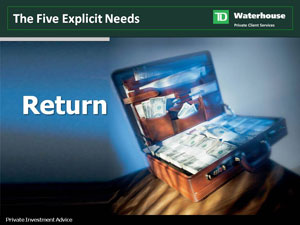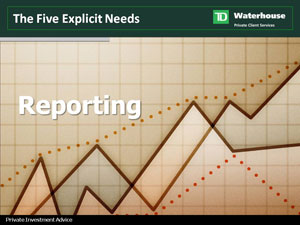 Rather than taking 2 minutes each for each of the Risk and Reward bullet points (as Trevor did in his original presentation), we created a separate slide for each of the five points. Now, the presentation graphics moved at a faster pace, and the audience had graphics to remember each of the key messages more effectively.
A quick fix and perfect presentation! After just two days and three rounds of edits, the presentation was success! Trevor presented to his business audience to applause and praise, and has generated several new business leads…in part thanks to a smooth delivery and great graphics from The Presentation Team!
class, Example, finance, Financial Presentation, Improvement, makeover, powerpoint, ppt, PPTX, seminar, slides, TD Waterhouse, training