Top Technical Tips for Amazing Web-based Meetings and Presentations
At first glance, the technology of web-based conferencing may seem complex and overwhelming. But worry not, web-based conferencing platforms and related hardware are easier than ever to operate. The key is an open mind and desire to try new things. Here are 10 tips to help you tackle the technology and deliver top-quality web meetings like a pro.
1. Be familiar, confident, and practiced with your technology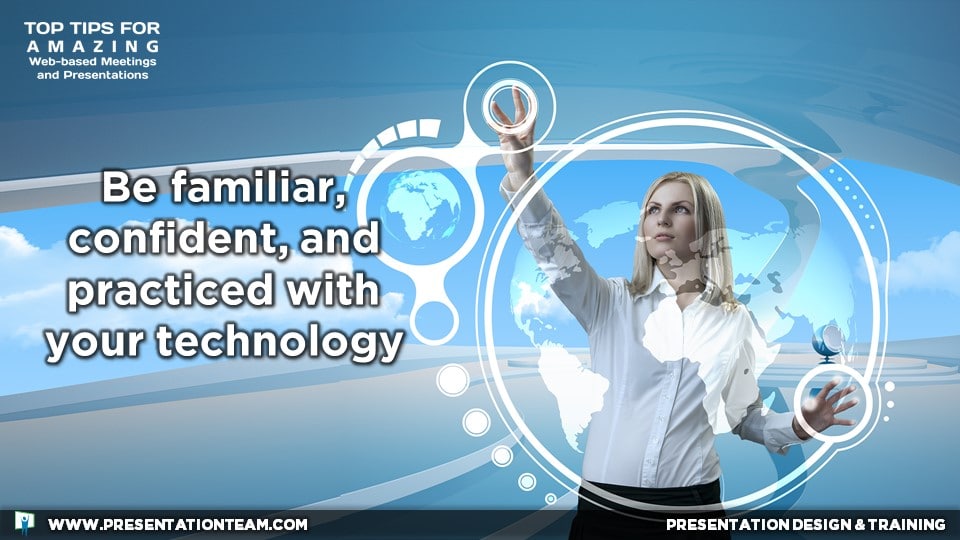 Plenty of people are new to the technology of web-based meetings. But confessing your technological troubles to your audience ("I don't know much about this technology! Or "How do I share my screen?) only serves to reinforce your challenges, and sends a message of inadequacy and weakness to your audience.
Aim to be familiar, confident, and practiced with your technology so that you can present like a pro. Take the time to explore the features and options with an open and curious mind. Check out YouTube training videos with a positive can-do mindset. Conduct a test meeting with a friend or a colleague to ensure everything is configured properly and displaying smoothly. Aim to make sure you're not intimidated at the time of the meeting or scrambling for help when something isn't working. Practice is key to a smooth and professional delivery!
2. Use a computer rather than a tablet/phone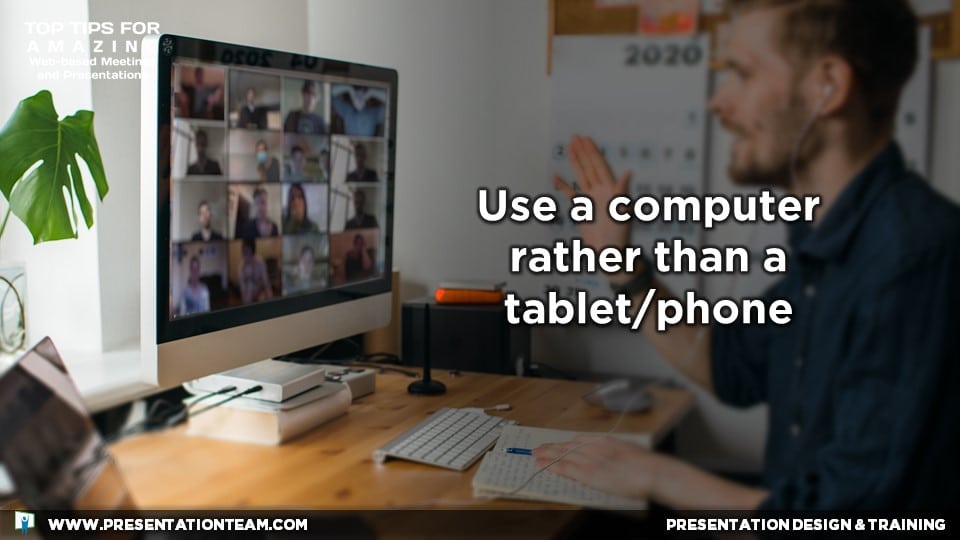 Holding a business meeting from a device in the palm of your hand is pretty amazing when you think about it. But if you have the option to use a laptop or desktop computer, your meeting can be more polished and professional.
Desktop/laptop versions of Zoom and GoToMeeting provide more features and functionality than mobile versions. And a computer- especially outfitted with a second monitor and using Zoom's "Dual Monitors" setting- can give you the horsepower to run your meeting like a pro and with far more "screen real-estate" to position your windows for easy display of your audience, chat, presentations, and other files that you might want to share during your meeting. You simply don't have that functionality with a mobile-based meeting.
3. Audio matters:  Invest in a headset or professional microphone.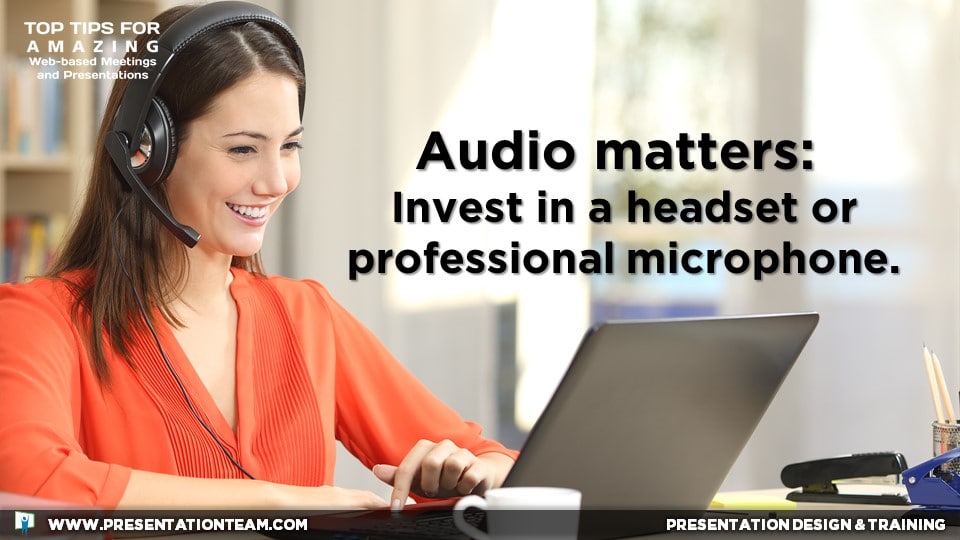 Using your device's built-in microphone might be fine for talking with friends and family, but when it comes to business meetings and presentations, audio matters. A headset or external microphone allows you to deliver better quality audio to your participants, and reduce audio issues such as feedback/echos or noise canceling.
A headset microphone also helps to cultivate a more relaxed and conversational narrative experience compared to a built-in webcam microphone, where people often talk louder, which can be perceived as aggressive or angry. Audio matters. And so do your vocal chords!
4. Position your camera correctly; not too close and not too far.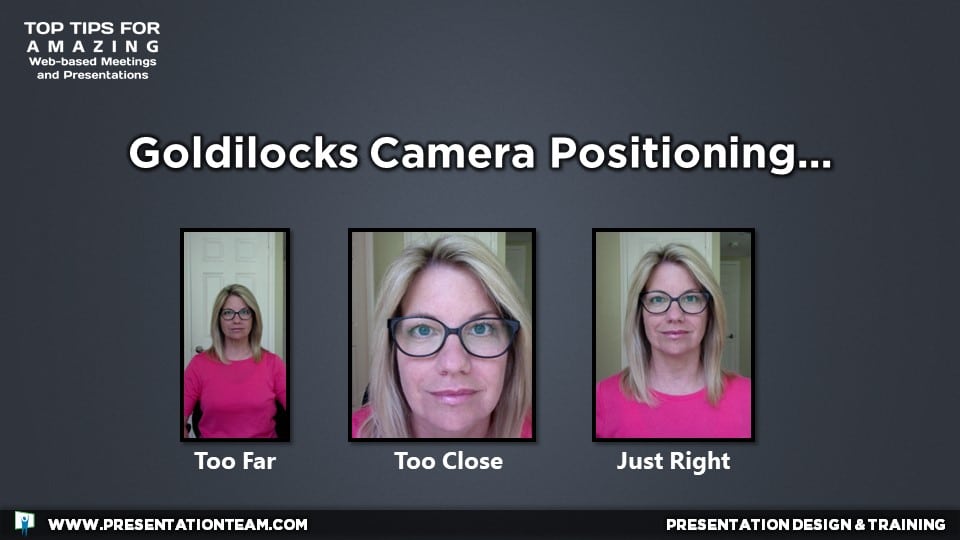 The six-feet virus rule need not apply when web conferencing! A distance of one to two feet between you and your web camera is best to provide a comfortable view of your head and upper torso.
Too close to the camera and just your face will fill the screen. Too far away and your whole body (and your room) will be on display.
A good Goldilocks "just right" strategy for that perfect positioning for your camera:
Sit up straight and stretch your arms straight forward til they just touch your camera or laptop screen.
Aim for about 10-15% of screen space above your head (head space)
Keep your eyes in the first third of the screen.
5. Mute your audience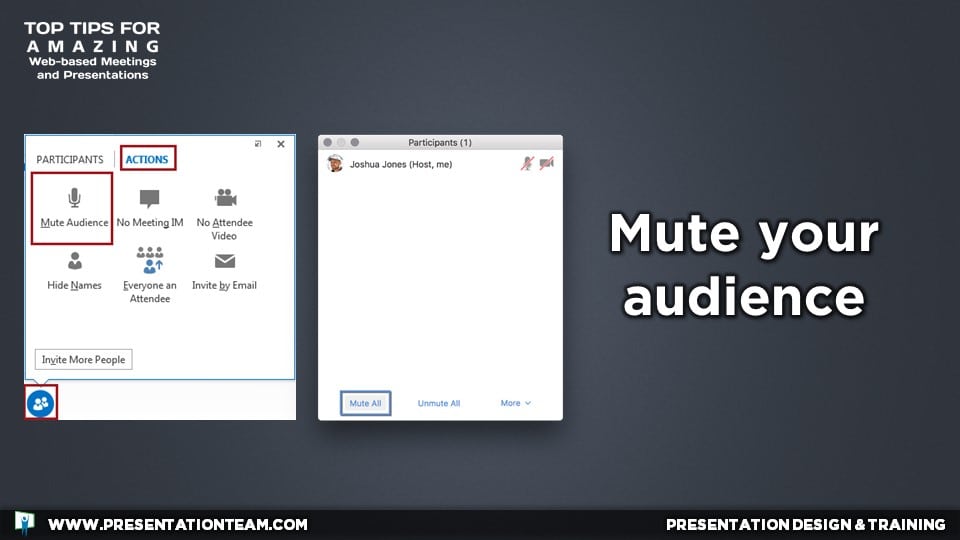 If you're the presenter or key speaker, it's best practice to keep your audience muted. This will reduce errant noises (babies crying, car horns, background sounds, etc.) that could distract from the focus of your meeting.
In Zoom and GoToMeeting, click on the "Mute All" in the Participants/People window. Or you can simply request attendees to mute / unmute their mics manually.
6. Stay near your router or connect via ethernet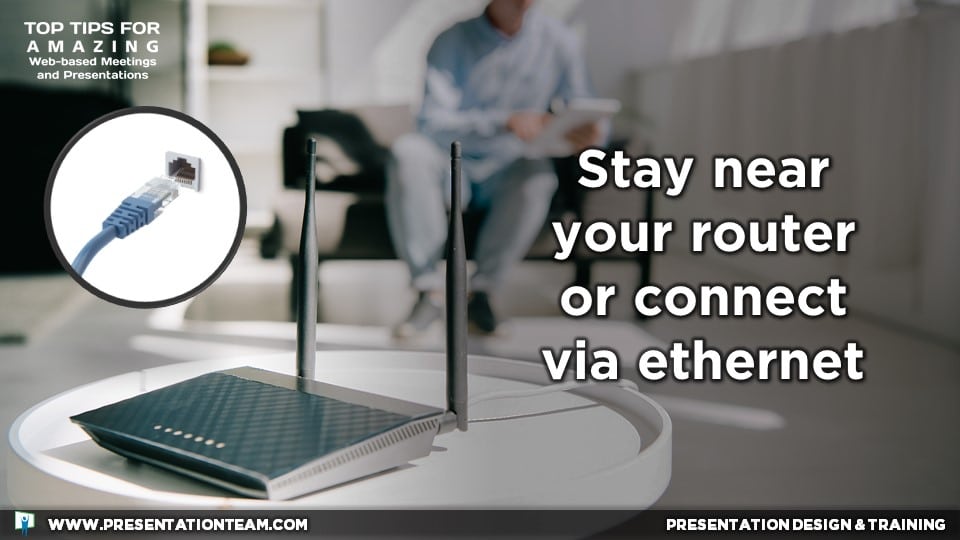 Your router is your lifeline to the internet. The farther away you are from it, the weaker the signal…and the more troubles your meeting might encounter. For the strongest signal, keep your router close to your working computer.
I used to keep my router inside a drawer in my living room wall unit, mainly for aesthetics. But working from my upstairs office, the audio and video quality of my web meetings was poor, and file transfers were slow. Everything improved when I moved the router to the side of the wall unit, closer to the center of my home.
If your computer supports a direct network connection – an ethernet cable with a RJ45 connection is your best bet for the highest speed and lowest connection issues.
7. Store your files locally and have your links ready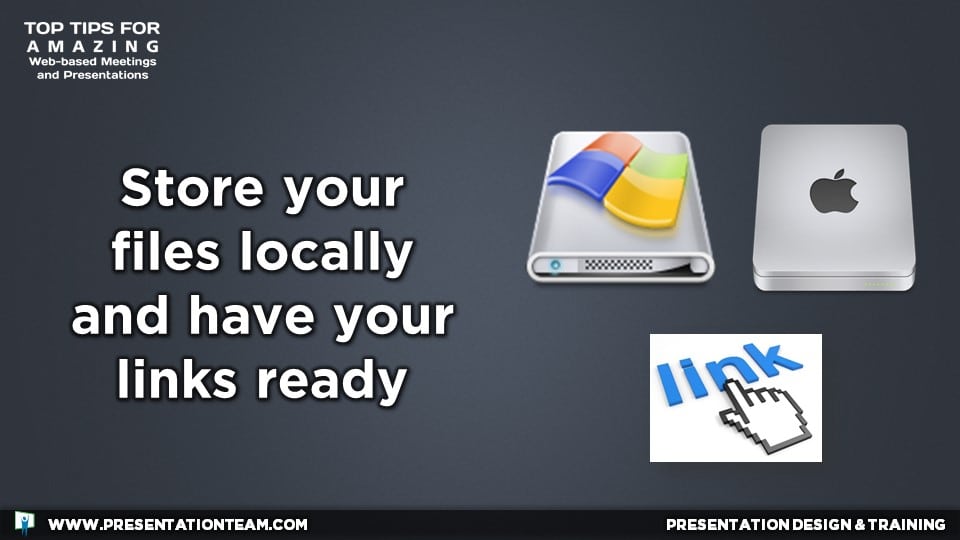 Storing your files (graphics, documents, presentations) locally rather than a network or the cloud reduces the amount of online data transfer, providing a faster and smoother connection to your web meeting.
It's best practice to keep your files (or shortcuts) in a single local folder for fast and easy access. Also, if you plan to share websites and other links, copy the links into a separate easy-to-access list file so you don't have to hunt for them when presenting. Keeping everything local, organized, and easily accessible will give you the upper edge when presenting.
8. If bandwidth is an issue, shut off video for audio only.  Or dial-in.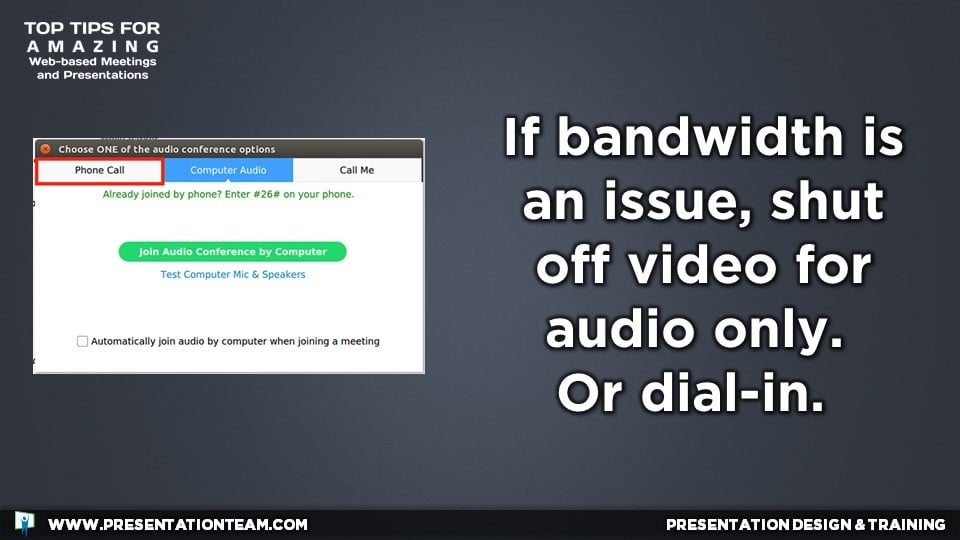 Video conferences have made the Covid quarantine a bit more tolerable, adding a sense of connection and reality to most online meetings. But two-way video consumes far more bandwidth than most residential areas are designed to handle.
If your meetings are looking fuzzy and sounding sloppy, consider turning off your video or screen sharing for an audio-only experience. For most meetings, video is just a cool added bonus. Audio through your phone or laptop is usually all you need to cover most points of a meeting, especially when you're there just to listen.
If your audio is still a sore spot for your call, try another service like Skype, GoToMeeting, or Team which will allow users to connect to the conference call with a standard dial-up phone number.
9. Consider a backup plan, a fill-in person, and be a leader.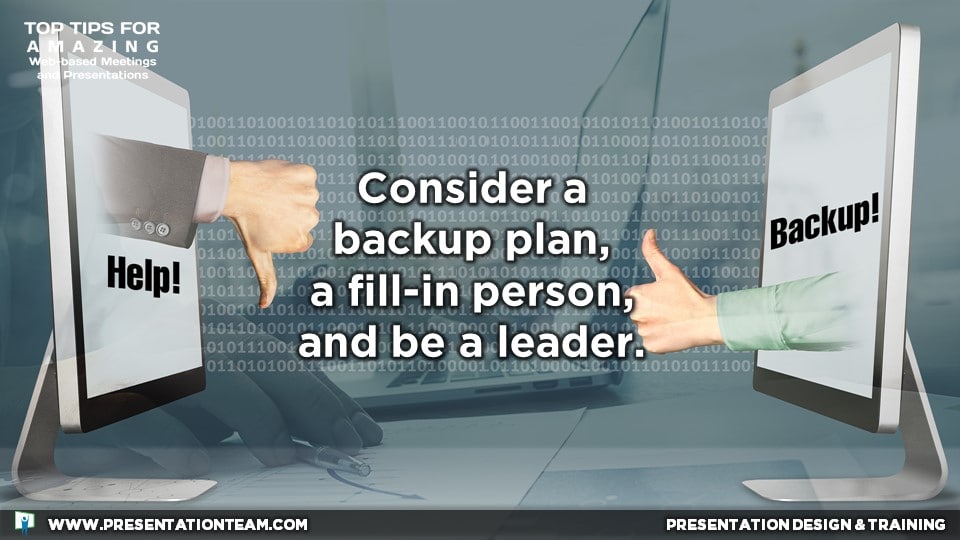 Don't let your audience suffer because of your technology troubles. It's best to have a backup plan with a goal of keeping the meeting on schedule. If you're having tech troubles during the meeting, consider tossing your program to another presenter, or someone can speak on your behalf while you troubleshoot your tech issue. If it's someone else's tech issue, suggest some of these bandwidth-saving ideas if they're having trouble.
Ultimately, the show must go on. In times of technical troubles, think fast, communicate clearly, and be a leader. Your job is to talk…not troubleshoot.
10. Arrive early and send out invites at least ten minutes ahead.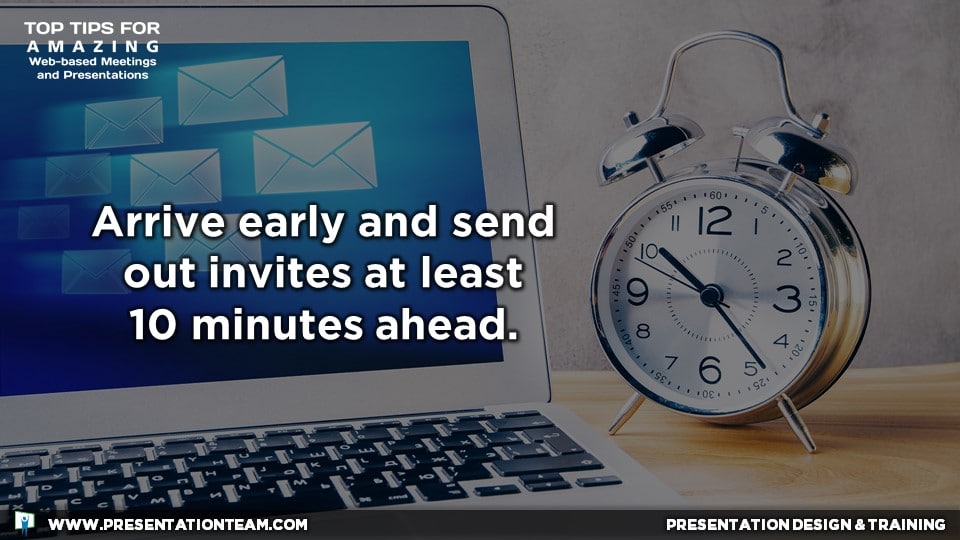 Make sure everyone knows about – and remembers – your meeting. If you're the meeting organizer, send meeting invites with links well-ahead of the meeting. An additional email at least 10 minutes ahead of the meeting is helpful to remind people to join. Just as if you were in a physical meeting room, arrive early to preview the digital "room", ensure everything is functioning well, prepare and plan, and welcome your guests as they start arriving.
best practices, covid, presentations, tips, web-based meetings, web-based presentations, webinars