Uh…Goodbye. Eliminating Crutch Words.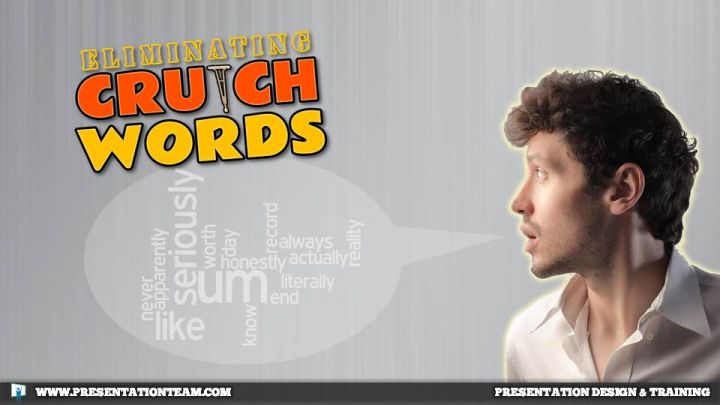 Tips to eliminate ums, ahs, and other empty words to give your speech more power and impact and make you sound like a more confident speaker
You've all heard it before. What would otherwise be a great presentation becomes one interrupted jumble of ums, ahs, like, and you knows. Empty and meaningless words filling a gap by a speaker. Just as crutches support our body following an injury, Crutch Words often support our verbiage when we're not sure what to say. Here's an overview of crutch words and some tips we can use to eliminate them from our vocabulary.
Eliminate Crutch Words to be a Powerful Speaker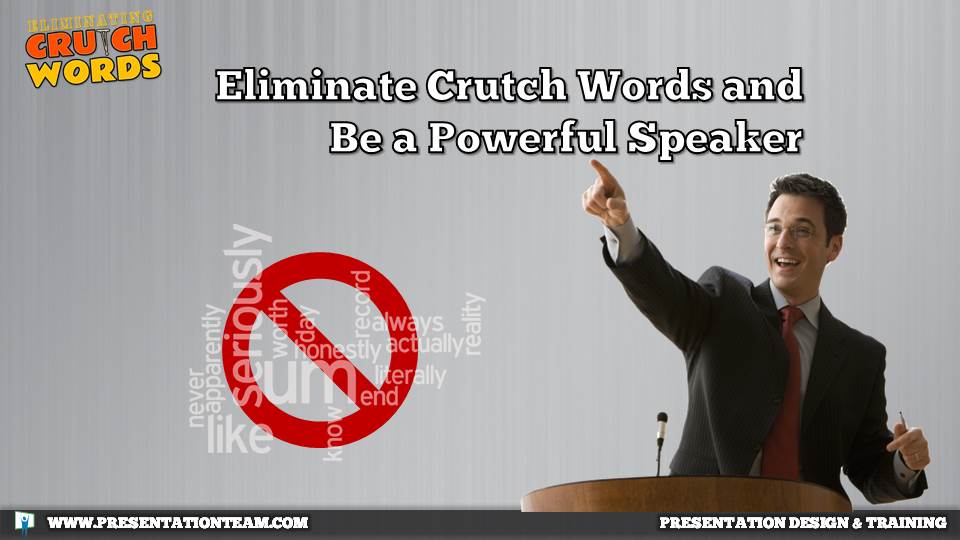 Eliminating crutch words is one of the fastest ways to improve yourself as a speaker. Not only does it display confidence to your audience, but you become easier to understand as your message gets across. It isn't easy to do, but if you can nuke those um's and ah's you are one step closer to winning over the crowd.
Don't Fear the Silence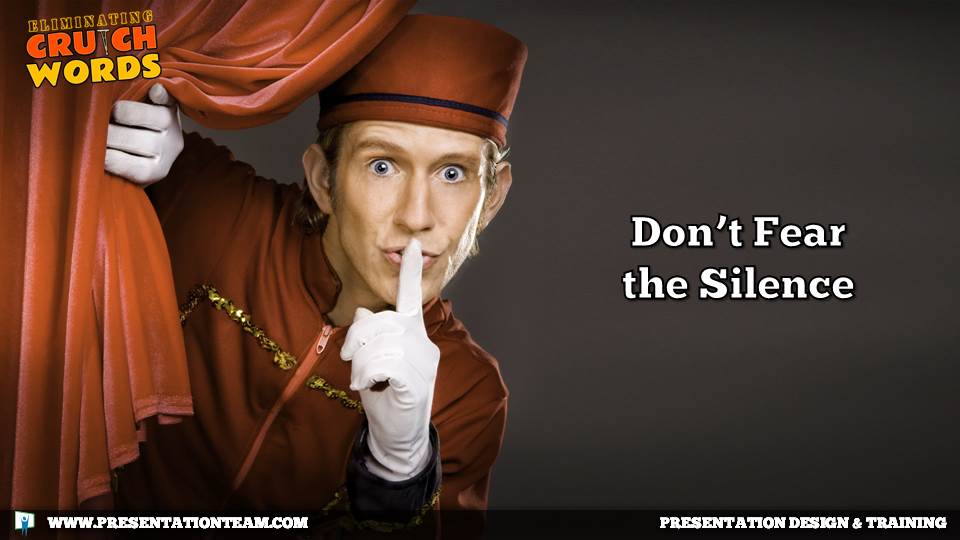 Um's and ah's come because as a speaker you naturally want to avoid silence. You've been conditioned for two-way conversations. Not talking and the silence can be terrifying. When you pause, you get feedback from the other person and the conversation continues. On the stage, it is only you.
The first way to combat crutch words is to realize silence is a good thing. Few speakers talk too slowly with too many pauses. Pauses help emphasize points and give listeners time to understand and absorb what you are talking about. Remember, although you may be an international expert and have a memorized speech, the audience needs more time to interpret what you plan to say.
How to Combat the Crutch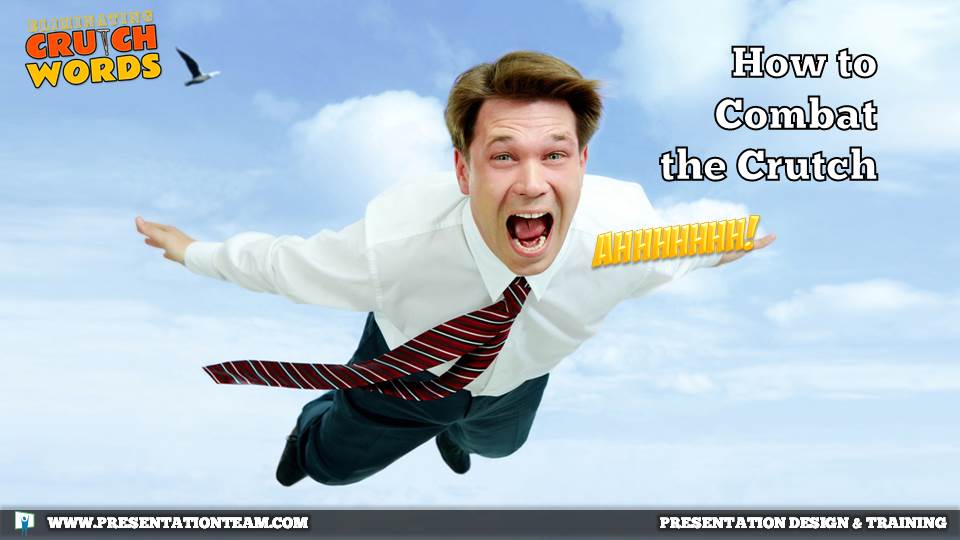 Here are some suggestions for becoming a pause artist and eliminating crutch words from your presentations:
Practice, practice, practice!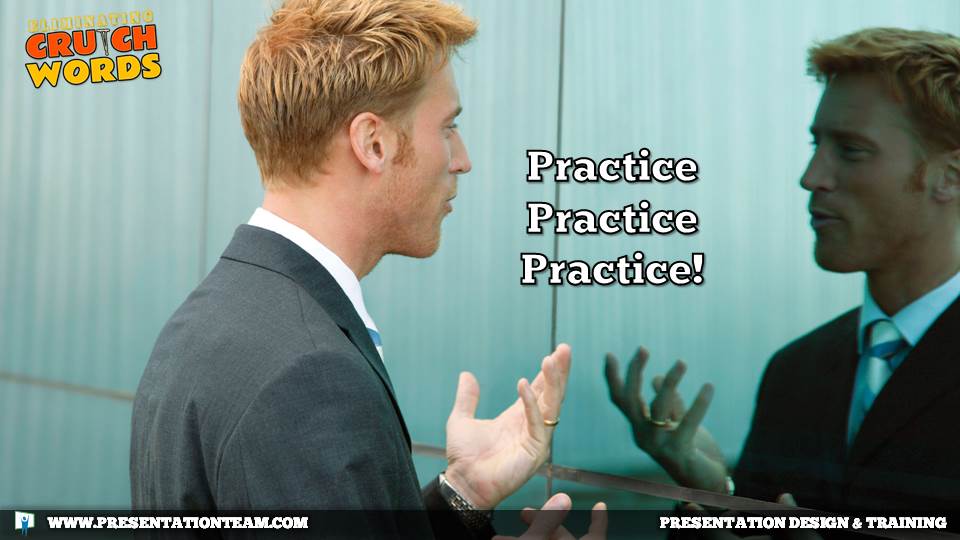 You should know your presentation backwards and forwards before giving it. If you spend all your time thinking of what to say next, you can't put emphasis on avoiding crutch words. Once you eliminate crutch words you can deliver unprepared speeches more effectively, but it is hard to cut the um's if you aren't prepared.
Breathe In, Not Out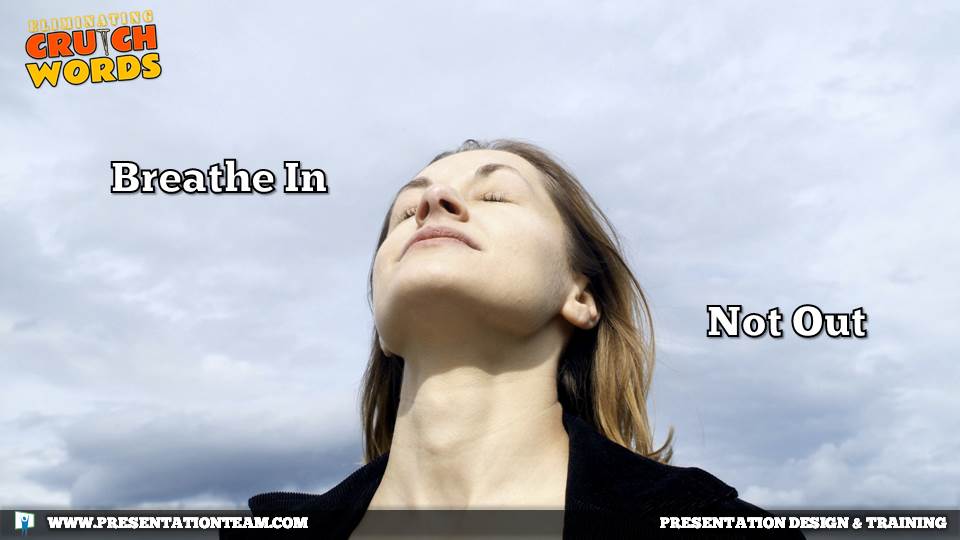 When you feel the temptation to ummm your way through a point, breathe in. This may add a pause to your presentation, but it will be far better than an ugly crutch word which blurs sentences together.
Avoid them in Conversation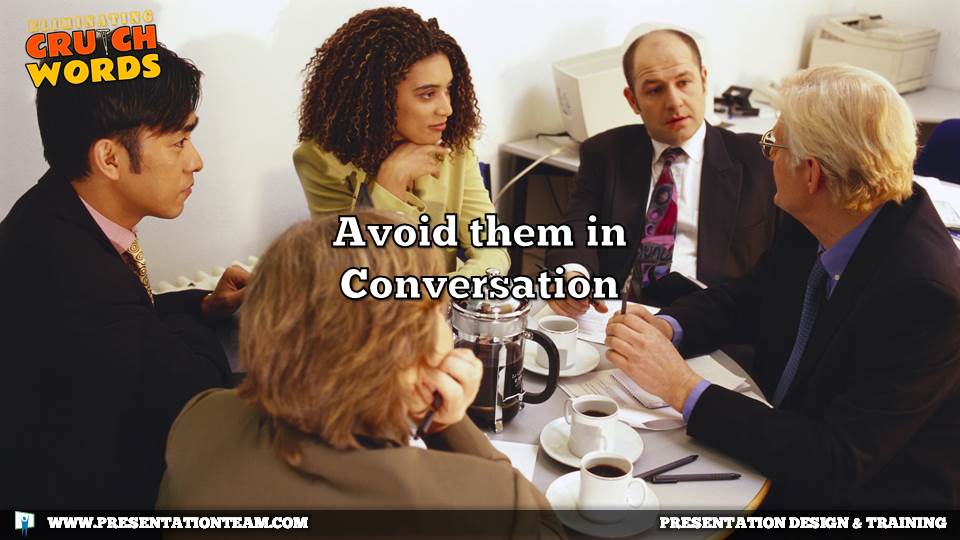 You speak all the time. Watch your crutch words when chatting with friends and family. If it helps on stage it will help in a conversation. Plus you`ll get far more practice.
Get a Counter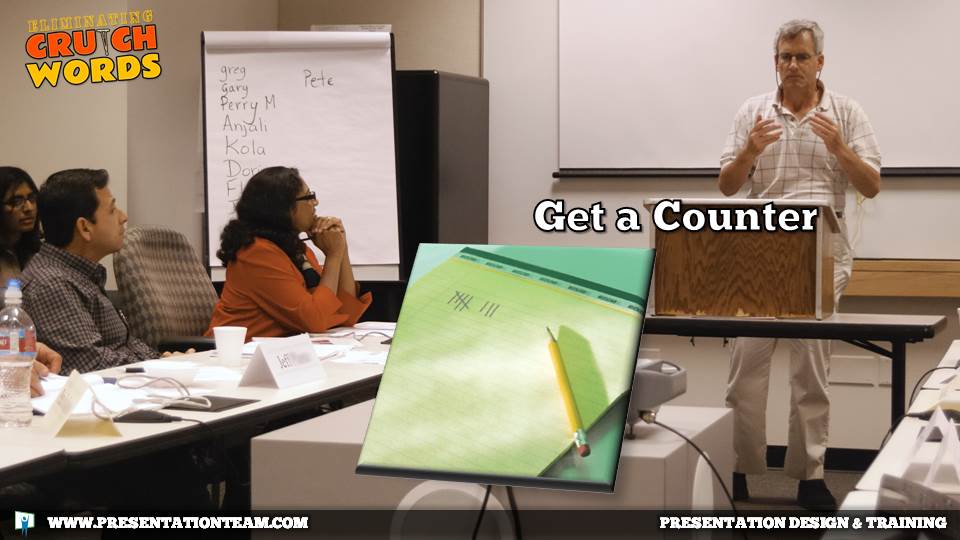 If your giving an important speech, get a friend to count the amount of times you utter an um or ah. Keeping numbers makes you highly aware of when your using these speech-killers.
Comma = 1 pause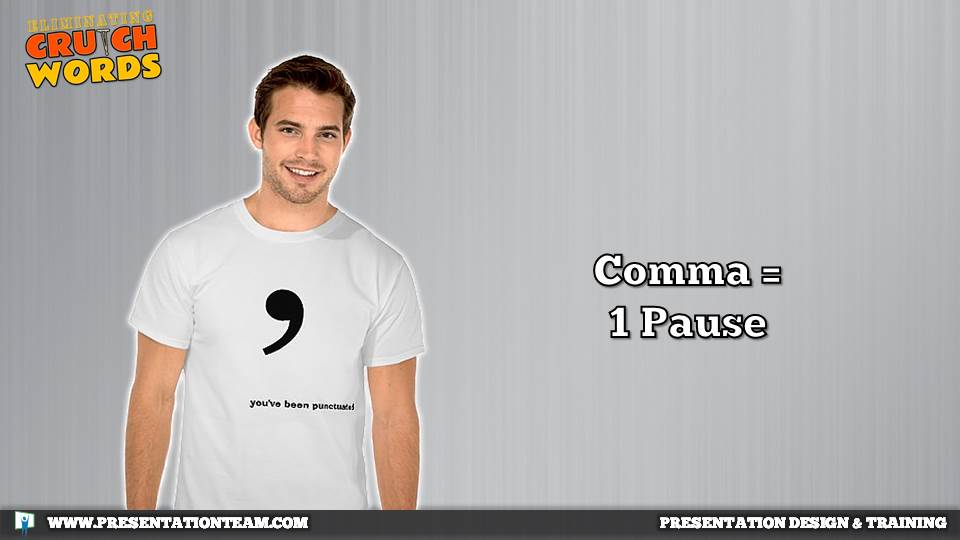 Make a note whenever you are doing a presentation that every comma you encounter should have a pause attached. You might want to run through a list of ten items as if they were one thought. But force yourself to give a short count in between each item. Your audience will thank you for the added emphasis and clarity.
Period = 2 pauses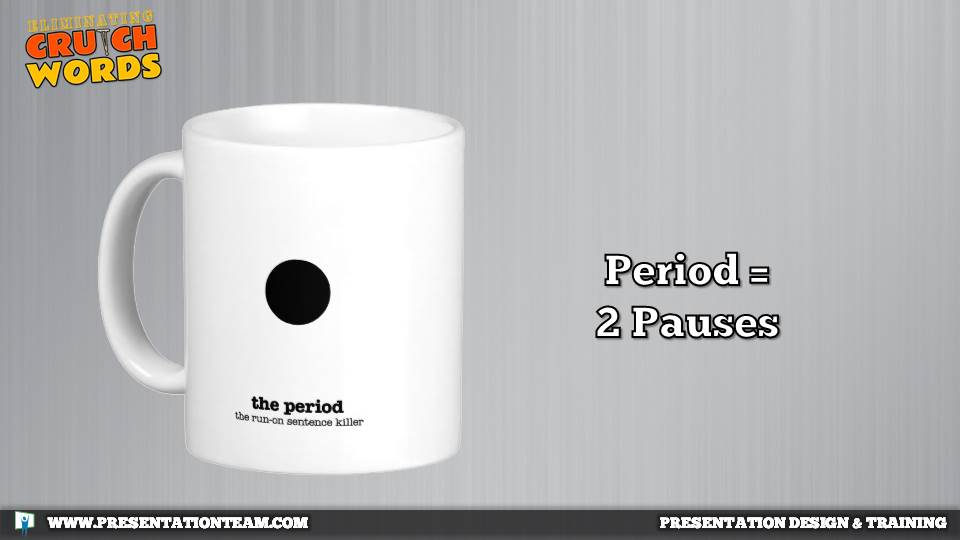 The end of a sentence requires twice as much pause. There is a time-delay between hearing your words and registering their meaning. Don`t cut over this step by blurring together your sentences.
Double Underline for Emphasis and Impact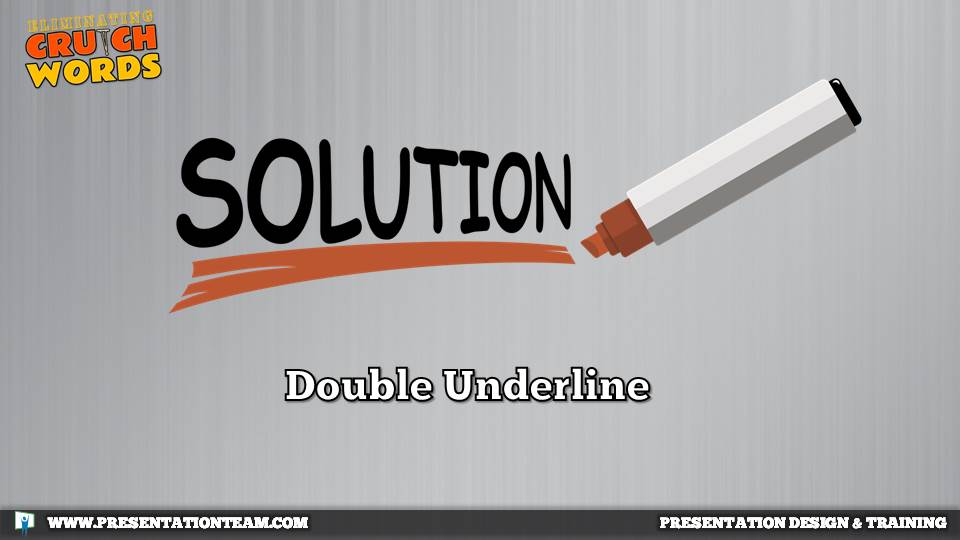 Underline key words and phrases and double underline especially important ones. This is a technique I learned from a former radio broadcaster. It helps you understand where to slow down and emphasize an individual word. When you slow down to emphasize words, this reduces the temptation to inject crutch words in between.
If You're Lost, Don't Panic!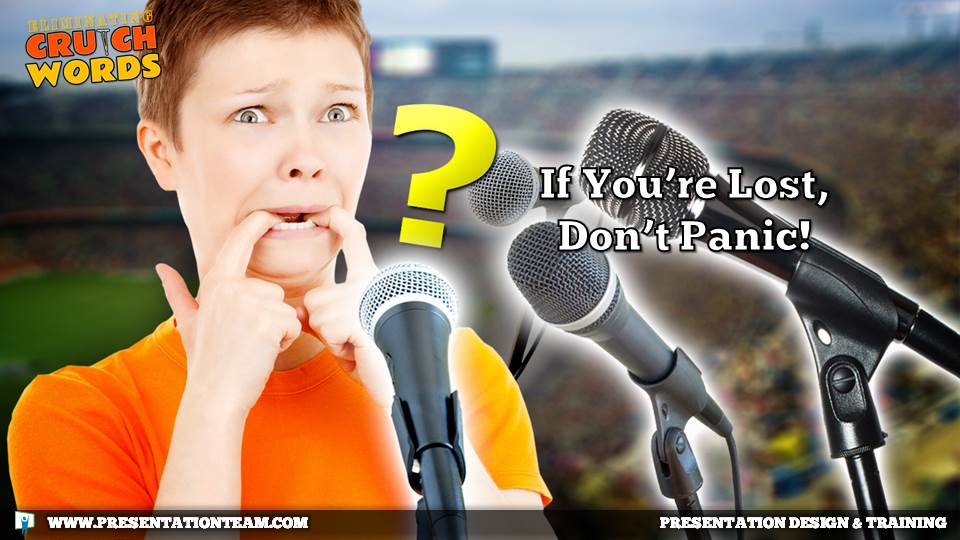 Um`s come in when you don`t have your next sentence ready. Your mind is still constructing what you want to say next, so you feel throwing a few um`s will fill the space until your ready. Don`t do this! Instead take a quick pause before moving on. The audience won`t notice and it will make your presentation smooth.
Enthusiasm Cuts Crunch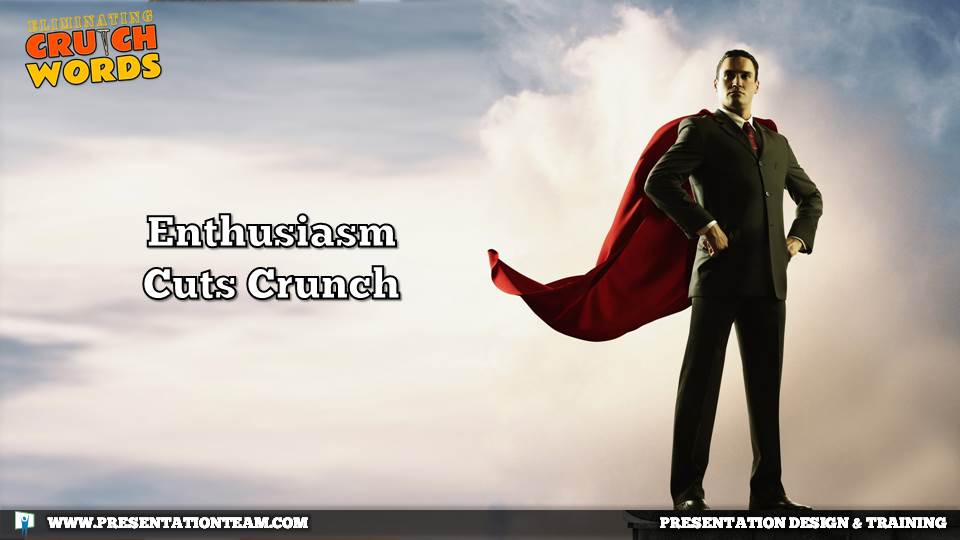 Imagine the presentation you have to give was the most critical information the audience needed to hear. When you engage emotionally with your speech topic, it becomes easier to emphasize points and avoid crutch words. If you aren`t engaged, you might feel the urge to preface statements with crutch words to downplay their importance.
Plan Tricky Parts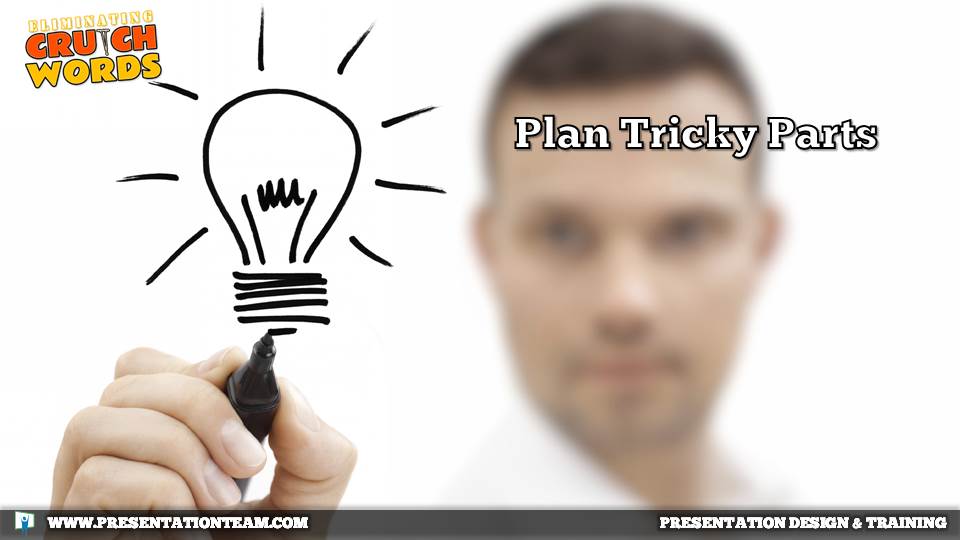 Know your conclusions and introductions word for word. Also plan out any tricky parts of a presentation you might have difficulty explaining. If you are preparing a business proposal and want to cover a sticky issue delicately, know that section word for word.
Quality over Quantity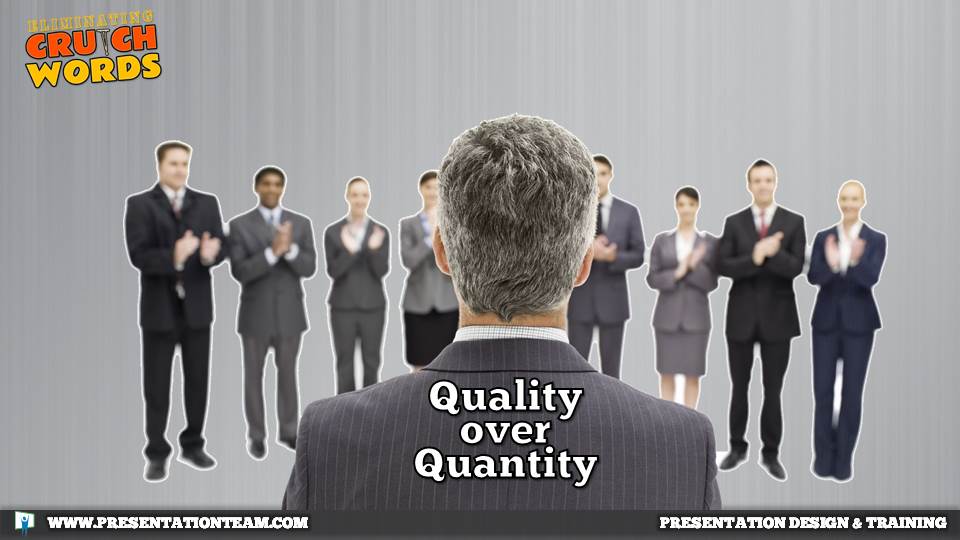 Speaking is a fairly inefficient medium for delivering large volumes of information. Emphasize only a few points in a speech, but emphasize them well and with repetition.
A good way to have a presentation filled with um's and ah's is to cram a five minute speech with twenty minutes of information. Audiences prefer quality over quantity. What matters, and what will make a difference.
Thanks to Scott Young @ howtochangeahabit@gmail.com for some text content and research.