Benefits of Better Eye Contact when Delivering Presentations
Eye contact refers to the intentional act of making a direct visual connection with individuals in the audience during a professional presentation or public speaking engagement. It involves looking into the eyes of the listeners to establish a connection, engage their attention, and effectively communicate the message. Here are five benefits of adding dimension through better eye contact during a speech for better presentations: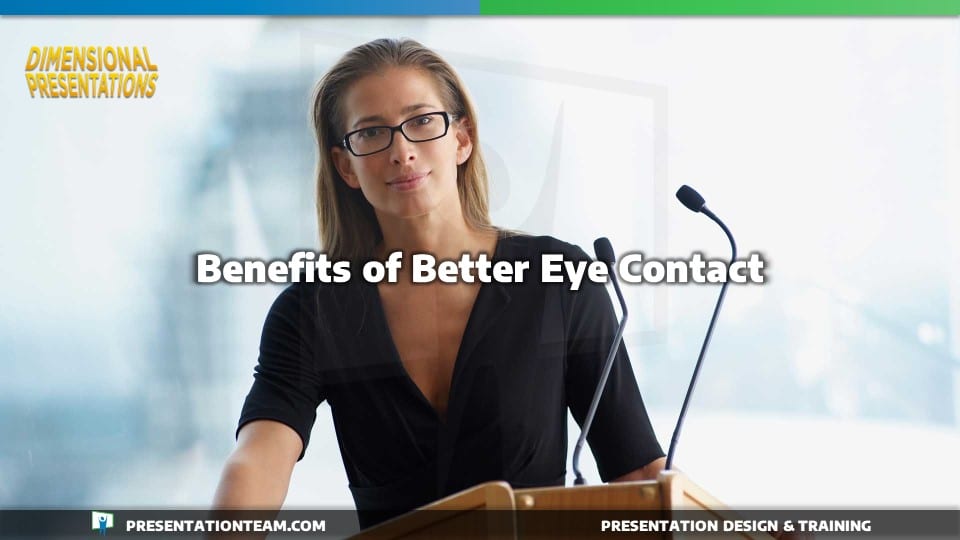 1) Establishes rapport and connection
Maintaining eye contact with your audience helps establish a sense of trust and connection. It shows that you are engaged and interested in what they have to say, which fosters a positive relationship between you and your listeners. This connection helps create a more receptive and attentive audience.
2) Enhances credibility and confidence
When you maintain eye contact, it signals confidence and credibility. It shows that you believe in your message and are knowledgeable about the topic at hand. This nonverbal cue can have a significant impact on how your audience perceives your expertise and the overall effectiveness of your speech.
3) Improves audience engagement and attention
Eye contact has the power to grab and hold the attention of your audience. When you look directly at individuals, they feel acknowledged and involved in the conversation. This engagement helps keep their focus on you and your message, preventing distractions and increasing the overall impact of your speech.
4) Facilitates nonverbal communication
Nonverbal communication plays a crucial role in conveying emotions, intentions, and emphasis during a speech. By making eye contact, you can effectively use facial expressions and gestures to enhance your message. It allows you to gauge the audience's reactions, adjust your delivery accordingly, and establish a connection beyond mere words.
5) Increases speaker-audience connection
Eye contact creates a sense of shared experience between the speaker and the audience. It makes your speech feel more personal and relatable as if you are having a one-on-one conversation with each individual. This connection helps build trust, empathy, and understanding, making it easier for your audience to connect with and remember your message.
Overall, incorporating eye contact into your speech can significantly enhance your communication skills, establish rapport, increase engagement, and create a lasting impact on your audience.
audience, better eye contact, eye contact, Presentation Skills