Five Tips & Techniques to Improve Eye Contact in Presentations and Speeches
Improving your eye contact during a speech is a valuable skill that can enhance your communication and connection with the audience. It involves looking into the eyes of the listeners to establish a connection, engage their attention, and effectively communicate the message and there are many benefits. This article highlights Five Tips & Techniques to Improve Eye Contact in Presentations and Speeches.
1) Practice with a mirror or video recording
Set up a mirror or use a video recording device to practice your speech while maintaining eye contact. Watch yourself and observe how you engage with your own eyes. Take note of any tendencies to look away or avoid eye contact, and consciously work on improving those areas.
2) Start with friendly faces
Identify a few friendly and receptive faces in the audience before your speech begins. During your presentation, periodically make eye contact with these individuals. It will help you feel more at ease and create a positive feedback loop as you receive nonverbal cues of encouragement.
3) Scan the audience
Instead of fixating on a single individual, make a conscious effort to scan the room and make eye contact with different individuals throughout your speech. Try to connect with people in different sections of the audience, ensuring everyone feels included and engaged.
4) Use the "triangle technique"
Divide the audience into three sections—left, center, and right. Alternate your gaze between these three sections, creating a triangle pattern. This technique helps you evenly distribute your eye contact, ensuring that different parts of the audience feel connected and engaged.
5) Pause and hold eye contact
When you make eye contact with someone, pause for a brief moment to hold that connection before moving on. This allows the person to feel acknowledged and heard, and it gives you an opportunity to convey your message effectively through nonverbal cues. Aim to hold eye contact for 2-3 seconds before transitioning to the next person.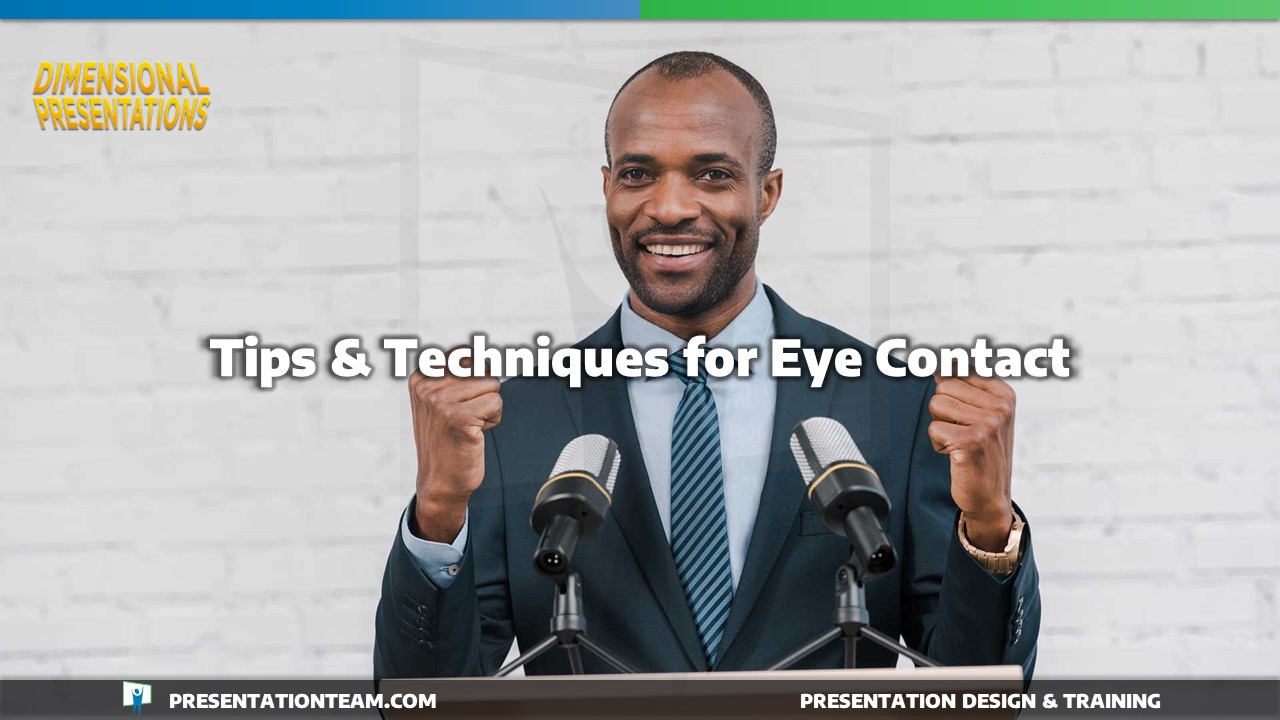 Remember, improving eye contact takes practice and time. Start by implementing these techniques in smaller settings, such as during conversations or presentations with a smaller group, before applying them to larger audiences. With consistent practice, you will gradually develop more confidence and comfort in maintaining eye contact during your speeches.
audience, better eye contact, eye contact, Presentation Skills