Pharmaceutical company transforms boring PowerPoint presentation
Restless and bored nurses call for update of 10-part medical training PowerPoint presentation
Colorful new look includes professional PowerPoint animation and bold illustrations

For the presenters of Agouron Pharmaceutical's What's Your Plan program, it was becoming increasingly frustrating that their audiences of nurses and healthcare providers were growing more restless and bored through their 10-part HIV-treatment training presentation. So the pharmaceutical firm turned to The Presentation Team to re-invigorate their bland and dry PowerPoint with a bold new look.
Highly clinical in its look and feel, the original presentation featured a flat olive background with bland yellow titles in an ordinary arial font. Although the presentation was dominated by text, a small amount of traditional vector clipart added some visual variety, but appeared too dated. By simply adding new graphics and basic animation, the presenters are freshly motivated and the audiences are more attentive to this educational presentation.
Templates can be eye-catching and professional

Before:
An flat olive colored background combine with arial text to produce a basic unmemorable page.

After:
The colorful template brings the slide to life. The title text has been placed in a more prominent area of the layout and the company logo has been added for a consistent feel on all slides.

Change bullets to graphics for added impact
Before:
Whenever a list of bullet points appears on a plain slide with no images, you have given the audience an excuse to stop listening to your audience.

After:
We pulled out the bullet points and gave the text a corresponding modern image. We enlarged the text and arranged it with the graphics on the page, rather than keeping them in list form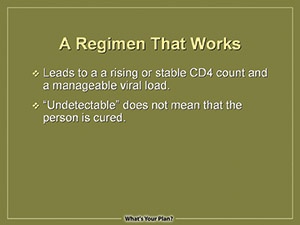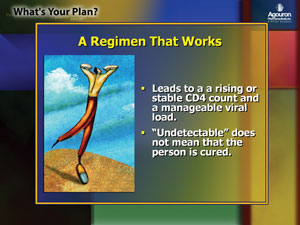 The end result was a fresh new look that motivates audiences and maintains their attention…translating to more effective healthcare!
From 2004.
Agouron Pharmaceuticals, Alguron, animation, Colorful, illustration, Medical presentation, powerpoint