The Presentation Team offers free PowerPoint presentation review and analysis
A great way to put some power into your presentation…no obligation.
Presentation consulting firm The Presentation Team is offering a free PowerPoint analysis and consultation. The Washington, D.C.-based company says they are on a mission to improve the quality of presentation visuals, and believes that business presenters will find the no-cost service helpful…while translating to increased market prominence.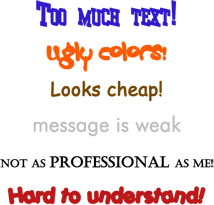 The company's expert PowerPoint designers and consultants spend up to 15 minutes of time with anyone who submits a presentation through the company's website. The consultants share creative ideas and strategic input on how improving the presentation design and offer ideas on how sharpen the message.
The company stresses that the free PPT review is not a sales pitch, and does not discuss prices during the call.
"Once the caller hears our unique ideas and strategies about their presentation, it will help establish our The Presentation Team's credibility as an industry expert," explains company president Kevin Lerner.
"We hope that will ultimately lead to a paid engagement. Ultimately, it's a great way to put some power into your presentation…no obligation."
"Too Much Text! Ugly Colors! Looks Cheap" are among the marketing messages listed on the firm's website, together with a simple form with file upload capability. After submission, Presentation Team's designers then speak by phone or webcast with the presenter to discuss design ideas, maintaining a balance of professional critique without arrogant criticism.
The Free PowerPoint Analysis program originated in 2008, but has recently been more prominently featured on the firm's website and marketing material. The Presentation Team specializes in PowerPoint presentation design and consulting, training and Audio Visual products. Based outside of Washington DC in Reston, VA, the firm has worked with clients around the world including Motorola, Office Depot, Oracle, Ryder, QuEST Engineering, and UBS Financial as well as numerous smaller firms and professional speakers.