The Perfect Pitch: Secrets to a Successful Investor Presentation
Ten Tips to create a great PowerPoint investor presentation or pitch deck to raise capital, money, and sell your vision.
Presentation expert shares secrets and examples to successful investor presentations
When prospective clients ask me if I've ever worked to develop an investor pitch deck, I sometimes joke that if I had just 1% of the earnings that my presentations have helped to win, I would be very wealthy. Yes, through the years I've seen and worked on hundreds of investment presentations pitched to prospects, investors, or just everyday people. And even though our world may seem more complex than ever, it's easier than ever to apply these 10 simple strategies for creating and delivering a perfect pitch presentation…
1) It's a presentation…not a business plan.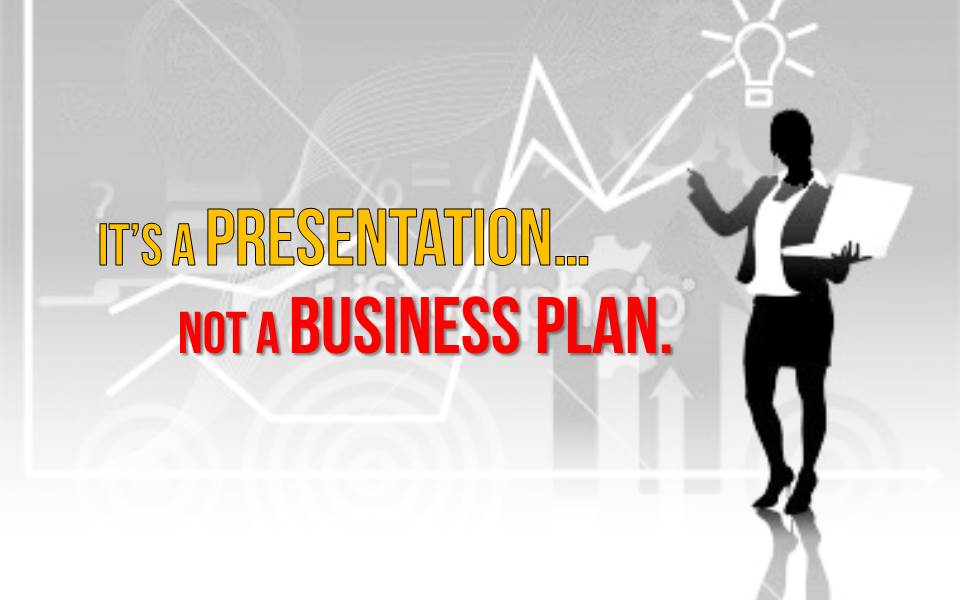 Time and again, the fatal flaw of most pitch decks is too much information crammed onto a handful of slides. All too often, business executives, presenters, and visionaries view "the pitch deck" as an opportunity to provide on-screen version of their business plan.
A PowerPoint presentation is not a document. Rather, it's a visual support tool designed to fortify the words and messages of the speaker through visuals and examples.
Great business pitch presentations paint a broad message with a few key words and examples, and then drill-down, page-by-page, to greater detail. Pitch presentations are meant to be shown to accompany the words of a speaker, not as a leave-behind landscape-formatted document.
The presentation should be a broad overview of what makes you different- or better. Leave them wanting more. And then share the detail in your business plan.
2) Limit long bullets and large amount of text.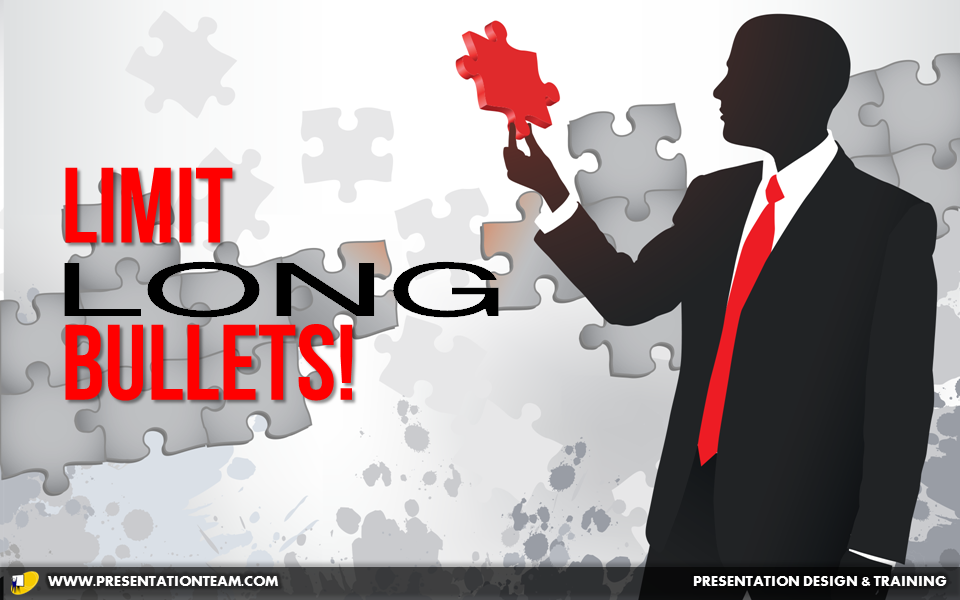 All the great speakers and authors know it and preach it: Less is more. Reducing key concepts to just a few words will keep your audience focused on you as a speaker. Rather than a single page of ten busy bullet points, one of my favorite strategies is to span the bullets across ten pages, with each page having the title repeated, and the bullets as the single dominant text element on the page. Each page can be supplemented with graphics.
I recently worked with the CEO of a travel/technology company who was pitching his company to a potential investor. His business plan featured a page with four key travel industry statistics. He wanted me to convert that page into a single-page PowerPoint. I shared that for maximum impact, each statistic should be on its own page. He was insistent, so the compromise was a single-slide all the charts- as an overview slide, and then the subsequent slides had each one of the four statistics enlarged, full-screen.
3) Just Show It!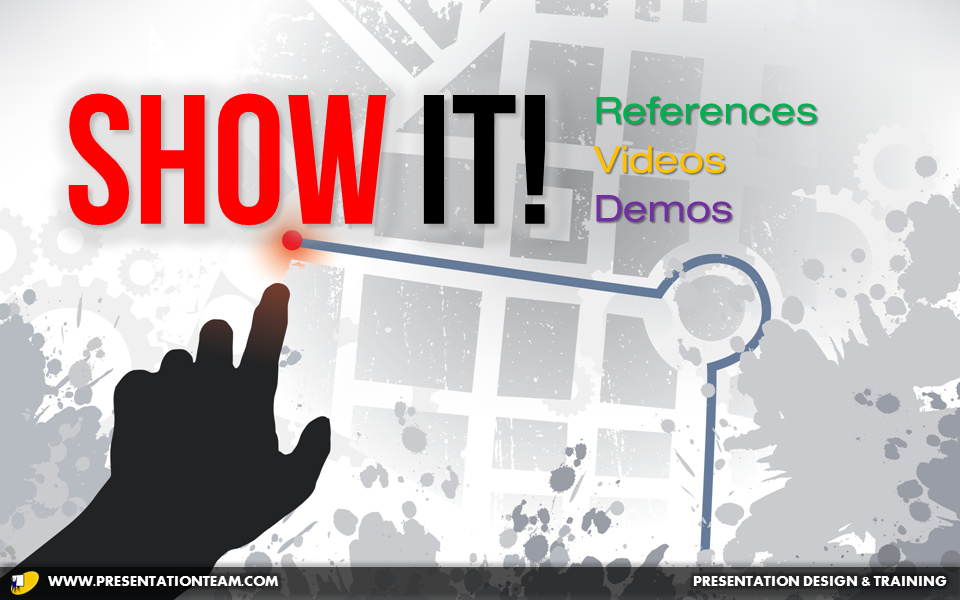 Don't just say you're good at what you do. Show it! In today's golden age of media, it's easier than ever to demonstrate your business, product, or concept in action through video or photos. A picture is worth a thousand words, and images that complement your topic will always be remembered better.
References

Video

Demo

If you have recommendations on LinkedIn or another social networking site, do a screen-capture and integrate it into your presentation page.
A short video with a hip musical background of edited testimonials and recommendations from your top customers or investors will demonstrate how cool your company is!



Check out Tech Smith's Camtasia for capturing your screen and producing a narrated video.



A pre-designed demo of your company or software is fantastic for showcasing how it will eventually look or work
4) Share your story with passion and commitment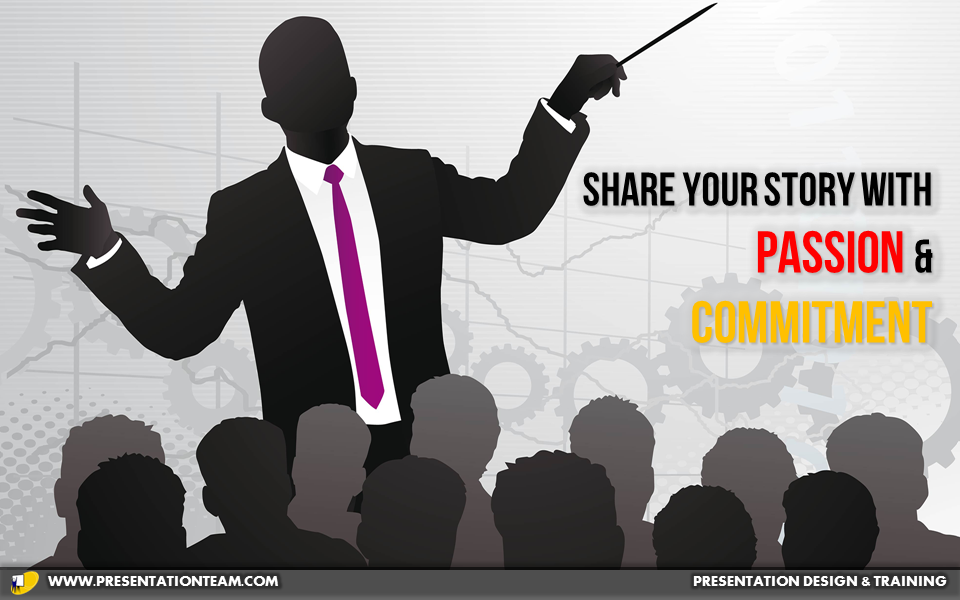 It's a fact: people who are passionate about their vision and dedicated to their success are more likely to succeed. So when pitching your product or company, show that passion! Many investors are looking for out-of-the-box thinkers. By sharing how your solution is better than the others because of YOU and your TEAM, you will get noticed.
It doesn't always work…and it need not be lengthy, but the genesis of an idea told with passion and conviction can hold the attention of even the most drab investor. But be careful to not come across too pushy or like a used car salesman. Maintain a grounded balance of vision and reality, mixed with your unique personality and experience, and you'll get what you're asking for.
5) Look professional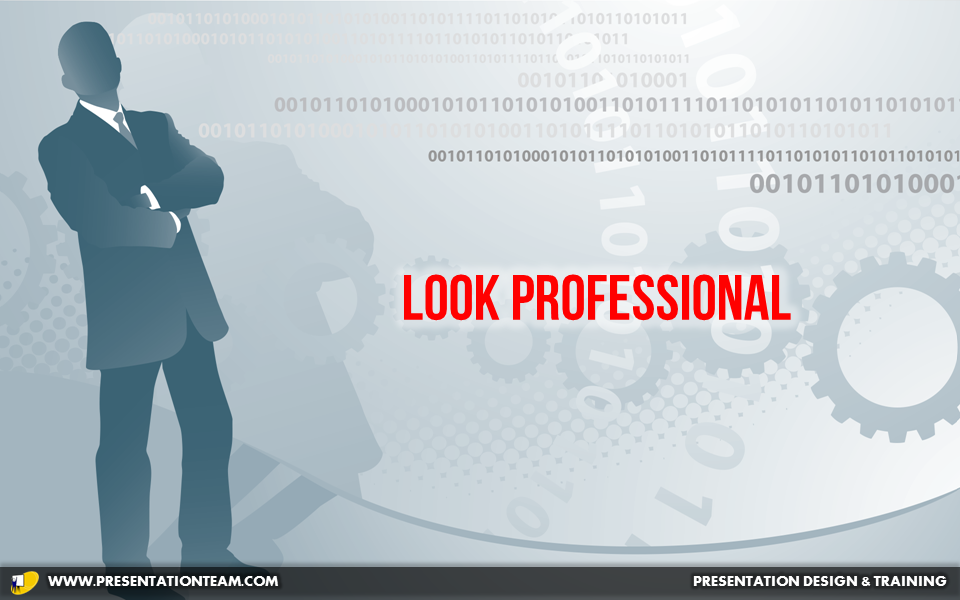 One of the great tenets of public speaking is to always dress better than your audience. Regardless of who you're speaking to and whatever your business is, money is serious stuff. So it's important that you look your best! Project an image of confidence and executive management and you'll be sure to send a subconscious message of professionalism and success, aiding your chances of a investor.
I've seen many young startups with a group of hip young people under 25, insisting that their culture is anti-corporate. That maybe the case for their internal work culture, but big business deals command a big appearance, especially if your audience is a bank lender or professional venture capitalist.
6) Involve the audience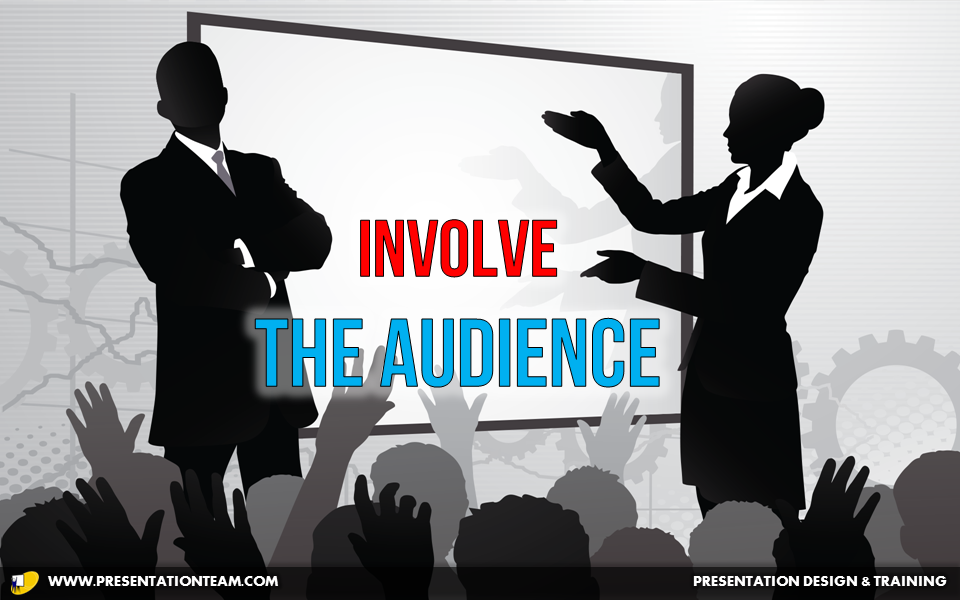 I hate to be lectured, or talked at. Chances are you do too. So for maximum impact, it's helpful that your investor presentation has audience involvement. If it's just one person or an audience of 500, audience involvement gets people to remember you. By asking simple questions, even rhetorical questions, you can help build a case to your product.
"Isn't that true?" "Did you know that…?" "When did you first use…?" These are all simple questions that level the playing field and build cohesion with you and your audience. Similarities unite and help sell. And by involving your audience with the right questions, stories, and examples, you'll help them to see things from your point of view and share why your solution need them.
7) Let the Headlines Tell the Story

Most PowerPoint slide titles suck. They're typically 2 or 3 headline fragments, like chapters from a book. I encourage my clients to pitch their presentations using short "headline" titles that summarize the slide content below. A viewer should be able to grasp the concept of your business pitch simply from the headlines.Just like this article has key messages that support the main topic, your pitch presentation should tell your story succinctly through bold titles in short sentences.
By viewing the titles to your titles as brief tweetable news headlines with a goal of maximum intrigue and impact, and you'll gain the attention of your audience and allow the supporting detail of the slide to be explained verbally or in supportive imagery.
Before & After: Examples of strong headlines that summarize the slide
Before

After
Intro
A Cutting Edge Technology
Company with Solid ROI and
Growth Potential
Our Team
Experienced Leaders…
Committed Professionals
Investment Opportunity
A Financial Plan to Deliver a Solid Return
8) Feature your Finances
Savvy investors look for the Return On Investment; many old-timers simply say, "take me to your financials". And yet, too many start-ups and their presenters shove their financials in the shadows, featuring more on their company, mission, vision, and strategy to change the world. A pitch presentation that's asking for money, requires that their financials be well thought-out and displayed.
Rather than a complicated spreadsheet, I often create a "visual dashboard," a five-year financial outlook featuring four bar-graphs of a company's key financial indicators: 1) Net Sales 2) EBITA 3) Net Income 4) Valuation / ROI. Each of these high-level slides then has a supporting detail slide that follows.
Assuming each of these indicators demonstrates growth, the four graphs are a potent visual tool to say, "we're heading for success!"
Using visuals to help people grasp the numbers involved with the business will demonstrate design creativity as well ensure that you're not shoving the numbers to the back of the deck. Be up-front and be bold: Feature your finances.
9) Give handouts for details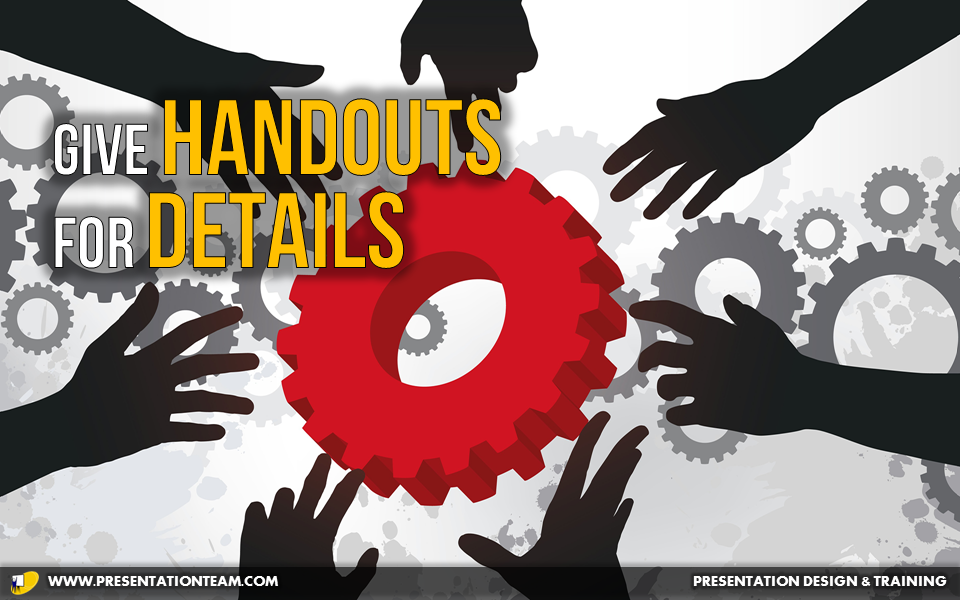 Despite our mantra to "keep it simple," some business models and information is simply…complex. Displaying a company's org chart on a slide with an 8-point-font will weaken and cheapen your message. Instead, keep that org chart, and shrink it down on your slide, and refer to it as a handout. Or, for added value, create a high-level, easy-to-read 2 or 3-level org chart in PowerPoint and give a handout for details.
The same concept applies for business models or other illustrations. Bottom line: If you can't read it on screen, don't show it!
I've been recommending to some investor clients that they have a separate handout/printout version of their presentation deck. It mirrors the presentation, but contains more detail and is formatted for print. It's more time and effort, but if it means the difference between an investor yay or nay, it's worth it!
10) Seek feedback and followup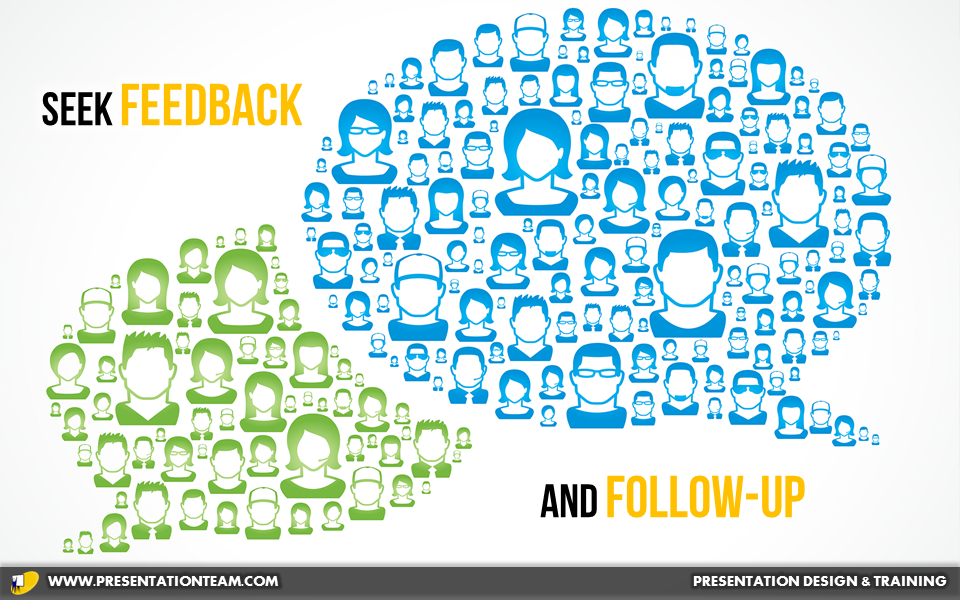 History's greatest thinkers and leaders have always gained feedback from their inner circle. If you're pitching to win a project, and you lose, take the time to ask questions. "What did you like most?" "What do you think caused us to lose the bid?" Just because you've lost the pitch, doesn't mean you've lost the relationship or a chance at another opportunity. And just because your presentation flopped doesn't mean it's a failure! Maybe it was simply not the right time. Perhaps another company had a lower price. Perhaps it was fixed (gasp!). By seeking feedback, and following up a friendly call or email, you'll refine your pitch for the next time and learn from your mistakes.
Winning a bid, or gaining investment capital is ultimately a reflection of how well you present yourself and your information. By adopting these proven strategies into your approach, you'll gain an upper edge in standing out and being successful.
Kevin Lerner is a presentation consultant and expert on presentation design and delivery. His firm,The Presentation Team, has helped hundreds of companies and individuals to create and deliver world-class presentations.