PowerPoint's Presenter View
How to use the Presenter View in PowerPoint for smoother speeches and improved eye contact.
Presenter View displays notes and navigation for speakers.
Deep within PowerPoint lies a speaker's secret weapon to smooth delivery: The Presenter View.
Most presenters using PowerPoint simply connect their laptop to a projector and display their slideshow with the projector displaying an identical image of the laptop's screen.
The presenter will speak using a printed script or notes page, or allow the on-screen bullet points to guide them along in their message.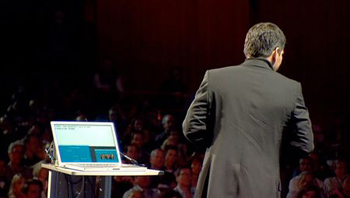 The Presenter View allows PowerPoint to operate as a dual-screen "command center" for speakers. The projector/external monitor displays the full-screen presentation in all its glory with animations and effects…while the laptop screen displays an organized and interactive collection of slide notes, navigation controls, drawing tools, timer, projector view, and other powerful features. The Presenter View requires multiple monitors and a laptop with dual-display capabilities- which most computers have these days.
To start, Windows and Mac users must have their computer connected to a projector that's powered up. For details on how to connect to a projector/external monitor and setup dual display in Windows 7, check out this article.
Setting up the Presenter View in PowerPoint

From the Ribbon, select the "Slide Show" tab
On the right side of the tab, in the "monitors section" select "Use Presenter View"
In most cases, you'll want to show the presentation on Monitor 2 (the projector / external monitor).
And although the screen resolution can be changed (if the presentation playback is sluggish), it's best to keep it on "Use Current Resolution".
Presenter View makes it easier to present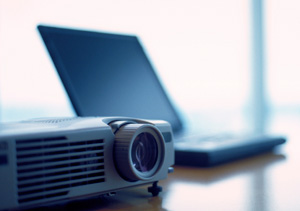 You can use thumbnails to select slides out of sequence and create a customized presentation for your audience.
Speaker's notes are shown in large, clear type so that you can use them as a script for your presentation.
You can darken or lighten the screen during your presentation and then resume where you left off. For example, you might not want to display the slide content during a break or a question and answer (Q and A) period.
Tools and features in the Presenter View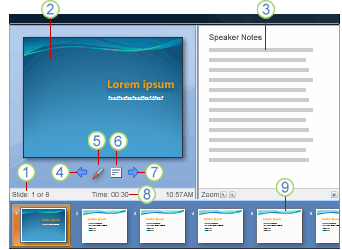 The slide number (for example, slide 1 of an 8-slide presentation)
The slide you are currently showing to the audience
The speaker's notes, which you can use as a script for your presentation
Click to go to the previous slide
The pen or higlighter
Click to display a menu that enables you to end the show, darken or lighten the audience screen, or go to a specific slide number
Click to go to the next slide
The elapsed time of your presentation, in hours and minutes
Slide thumbnails that you can click to skip a slide or to return to a slide that you already presented
In Presenter View, icons and buttons are large enough to navigate easily, even when you are using an unfamiliar keyboard or mouse. Many professional speakers use the Presenter View and most people love it. Indeed, once you've presented in the Presenter View, you'll never want to present another way!
Kevin Lerner is a presentation consultant and expert on presentation design and delivery. His firm, The Presentation Team, has helped hundreds of companies and individuals to create world-class presentations.
powerpoint, Presentation Tip, Presenter View, Speaker Notes, Speaker view