On the Move: The Presentation Team Relocates to Washington, D.C.
Move from Florida is spurred by stronger economy;  Business presentations and PowerPoint is more prevalent in the nation's capital.
For over 15 years, The Presentation Team has created stunning presentation visuals under the arid sun of Florida. But as of March, 2012, their clients will now enjoy a fresh new look to their visual communications…produced from the communication firm's new northern venue of Washington, D.C.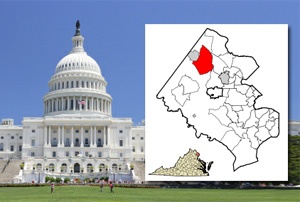 In October 2011, company founder Kevin Lerner declared that it was time to do things differently with the company, and that a relocation to another region would benefit the bottom line. Ironically – just three days later- engineering firm Software AG called to hire the firm for a presentation training program. In December, Lerner traveled to the DC suburb of Reston, Virginia to conduct the training. He felt a strong synergy with the area.
"The people, the culture, the technology, the opportunities…were all tremendously attractive…personally and professionally," explains Lerner, who added that the economy is robust and recession-proof, with an unemployment level of just under 5%.  Additionally, the region is booming with growth as the Metrorail expands northwest to through the "Dulles Corridor" through Fairfax and Louden Counties to Dulles Airport.
Lerner said goodbye to his native land of South Florida in March, 2012, and headed north to Reston.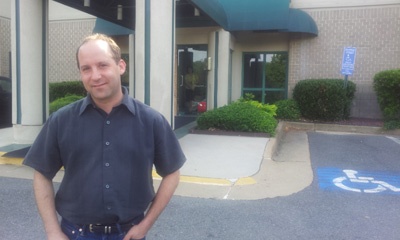 Lerner outside The Presentation Team's new office in Reston, Virginia
The company found a new office at WeSpace, located at 1801 Reston Parkway, a shared-use venue popular with various technology startups and communications companies. The venue and its tenants provide strong synergies to The Presentation Team's offerings, and ultimately may provide greater value to their clients.
Additionally, the location- directly across from the popular mixed-use urban/commercial venue of Reston Town Center, provides greater access to business professionals and other corporate clients.  With a focus on community and networking, Lerner and his company joined the Reston Chamber of Commerce, CoFounders.com, as well as the Reston Toastmasters and will be an active player in civic events.
Lerner said that the move will have little adverse impact on the company's client base, as the company conducts most of its business virtually. However, he added that the region is rich with companies who have a need for high-impact presentations and training, and will likely have an increased presence of on-site, or face-to-face commerce.
Ultimately, the move will be a win-win for The Presentation Team and its clients, as the company repositions itself to be a global leader in presentation design services and training.